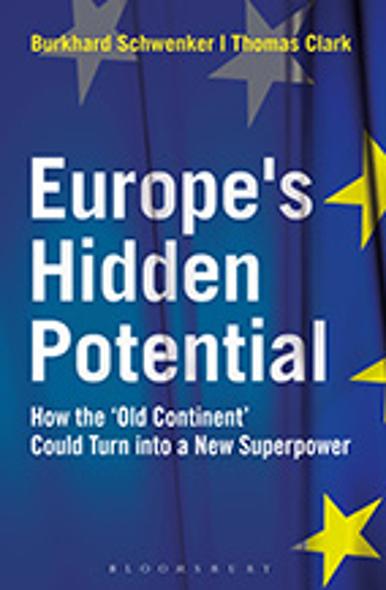 Europe's hidden potential
Europa wird unterschätzt. Eingeklemmt zwischen den alten und neuen Supermächten USA und China wird es zu selten als eine Führungsmacht des 21. Jahrhunderts diskutiert. Vor allem das Potenzial der europäischen Wirtschaft wird oft übersehen. Dabei hat Europa alle Voraussetzungen, um sich zum Leuchtturm der globalen Wirtschaft zu entwickeln. In ihrem neuen Buch – "Europe's Hidden Potential: How the 'Old Continent' Could Turn into a 'New Superpower'" – zeigen die Autoren Burkhard Schwenker und Thomas Clark, warum Europas Wettbewerbsposition zukünftig so stark sein kann. Das Buch ist ein Plädoyer für mehr europäisches Selbstbewusstsein, das auf Europas konsensorientiertem Politikstil gründet und der erfolgreichen europäischen Art, Unternehmen zu führen. Herausgegeben wurde das Buch von Bloomsbury Publishing in Zusammenarbeit mit der Roland Berger School of Strategy and Economics.
Großbritannien ist nicht das einzige EU-Mitglied, das Europa begrenzen möchte, statt seine gemeinsamen Ziel zu stärken. Deshalb haben sich Frustration und Skepsis über die Zukunft Europas verbreitet. Schwenker und Clark stellen sich dieser negativen Haltung aus Überzeugung entgegen:
"Während meiner Karriere bei Roland Berger Strategy Consultants, zuletzt als CEO und heute als Aufsichtsratsvorsitzender, hatte ich ausgiebig Gelegenheit zu erfahren, wie Unternehmen weltweit geführt werden und wie Politik gemacht wird", sagt Burkhard Schwenker. "Obwohl ich viele Ansätze aus Amerika und Asien schätze, sehe ich zunehmend das große Potenzial Europas. Dieses Potenzial wird sich dann vollständig entfalten, wenn Europa den richtigen Kurs einschlägt."
Der österreichische Co-Autor Thomas Clark, der in Großbritannien, Belgien, der Schweiz, Deutschland und den USA gelebt hat, fügt hinzu: "Burkhard Schwenker und ich haben unsere positive Haltung zur Zukunft Europas in zahlreichen Gesprächen hinterfragt, um sicherzugehen, dass unsere Botschaft nicht nur auf Wunschdenken beruht, sondern in der Realität fest verankert ist. Deshalb haben wir unsere Thesen mit lebendigen Beispielen und belastbaren Zahlen untermauert."
Das Buch (nur in Englisch verfügbar) erhalten Sie als Hardcover und als Kindle-Edition hier bei Amazon.