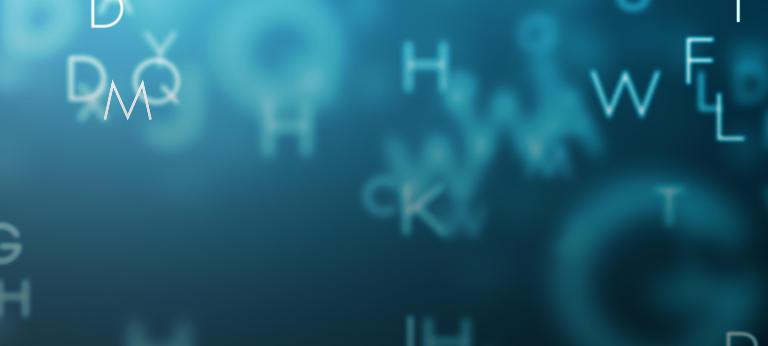 Corporate learning and digitization: Top-quality and cost-efficient vocational training makes company's better
Roland Berger study shows: e-learning in companies is on the advance, but the training tools have to fit the corporate culture and strategy
Integrated learning – in-class seminars and online training courses are most effective in combination
Online education can significantly change the way employees learn, if companies provide the right environment Corporate Learning goes digital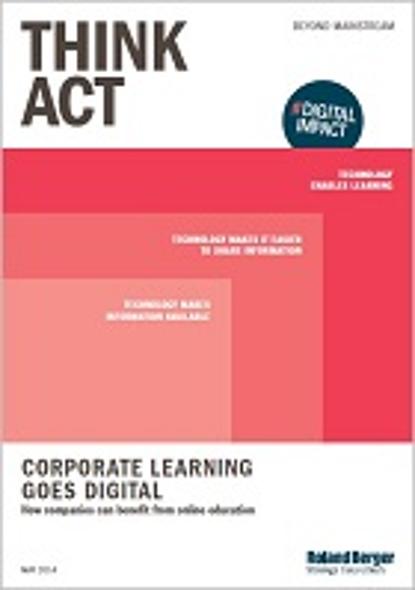 How companies can benefit from online education
Published June 2014. Available in
The online education market is growing rapidly, because thanks to the technological developments of recent years, online training offers are becoming ever less expensive and more readily available. The global market volume for e-learning is already today around 91 billion dollars. In Europe alone there are 3,000 providers active in this field – and their number is on the rise. In fact, the e-learning market is predicted to grow by more than 20% per annum up until 2017.
And the demand from companies for online education products will also continue to increase: The corporate e-learning market will grow by about 13% per annum in the period up to 2017, because companies are seeking new ways to further their employees' know-how that are flexible and tailored to the individual person's needs. The recent study conducted by Roland Berger Strategy Consultants "Corporate Leaning goes digital – How companies can benefit from online education." analyzes the enormous potential of e-learning.
"Many companies have already recognized the benefits of online learning," explains Katrin Vernau, education expert and Partner at Roland Berger Strategy Consultants. "More and more of them are making use of e-learning offerings, because they cost less and are easier to integrate into a normal working day."
The corporate culture is decisive
While it used to be only information that was made available on the Internet, social online technologies (social enterprise solutions) today make innovative, creative learning possible in entirely new forms. The digital methods of further education are particularly suitable for global companies that want to bring employees at widely dispersed locations and with varying levels of education up to the same level of know-how. They enable people to learn while in full employment and to monitor how successful the individual's learning efforts are being.
The market for online learning is still heavily fragmented, with a wide range of different platforms and concepts. So it is of great importance for companies to find the right instruments for their needs. "The format has to fit the corporate culture and strategy if the desired success is to be achieved," says Roland Berger Partner Maren Hauptmann. "Learning is supposed to be fun after all."
So before choosing a product, companies should first compare their demands with the level of knowledge of their employees. Training offers can then be developed and implemented accordingly, and the companies can check whether what has been learned is successfully being used to their benefit, or if more educational measures are required.
Integrated learning delivers the best results
To enable employees to achieve the best possible learning results, methods should be applied that enable individualized study as well as know-how exchange with other colleagues. The mixture of online and in-class study possible today enables true "blended learning".
With these integrated education options, participants can work through online modules at their own pace, whenever and wherever they are. In in-class courses, they can apply what they have learned together with trainers and colleagues and discuss questions in person. "Modern online technologies today enable informal learning at the workplace – spontaneously and as desired by the individual," Maren Hauptmann explains. "And at the same time, company staff do not have to go without direct interaction with other course participants." Interactive blogs and discussion forums in the intranet are ideal for this.
Companies have to provide the framework for online education
Vocational training in companies is not only about teaching knowledge; it should also have a positive effect on the employees' behavior, in order to improve the company's overall ability to perform. So companies should create the necessary structures and incentives to raise the acceptance of new ways of learning.
"Online education has the potential to significantly change the way we learn. Online technologies combined with social media influence demand and supply in the education sector. This gives rise to new business models and new opportunities for life-long learning within the company," Katrin Vernau concludes.
Photos KTSDESIGN / SCIENCE PHOTO LIBRARY / Getty Images