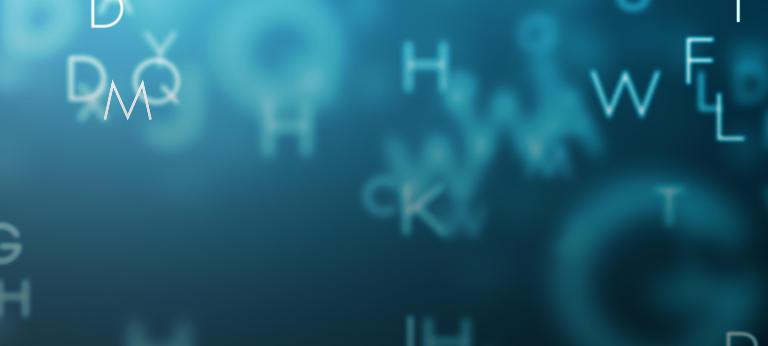 The connected aircraft: In-flight connectivity offers a new income stream for airlines and boosts operating efficiency
Head of Marketing & Communications Germany, Austria and Switzerland
Munich Office, Central Europe
+49 89 9230-8190
New Roland Berger study: Internet access is one of the top three criteria people look for when choosing a flight
Two out of three passengers are prepared to pay more to have Internet access in the air
Revenues could increase by up to EUR 4 per passenger for airlines offering on-board Internet
In-flight connectivity is preparing the ground for digitization across the aviation industry
Airlines will need to partner with tech firms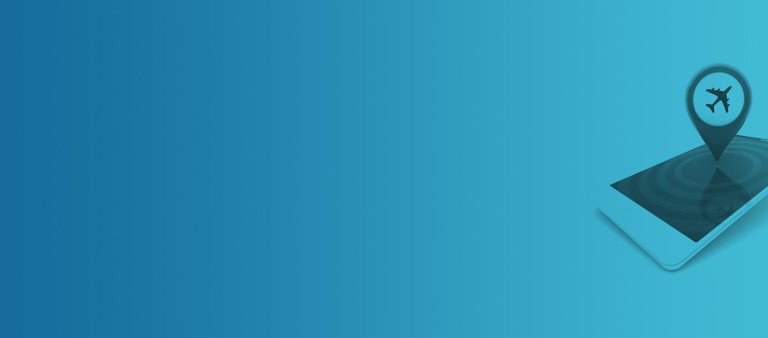 Spread your wings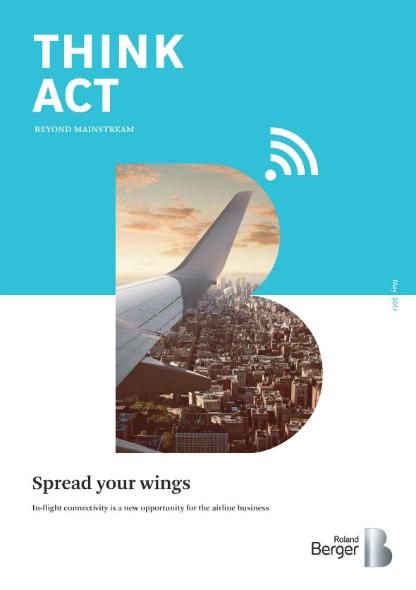 In-flight connectivity is a new opportunity for the airline business
In-flight connectivity represents a potential new revenue stream for airlines. Passengers in increasing numbers want to have online access in the air and are choosing their flights accordingly. Airlines are currently able to charge for the technical access to the Internet itself. But what on-board Internet will do in the medium term is serve as an additional sales channel through which customers will be able to shop, purchase flight upgrades, or spend frequent flyer miles. In total, airlines could earn online revenues of approx. EUR 1.20 per passenger on short-haul routes, and about EUR 3.60 for those on long-haul flights. The income will come not only from monetizing paid-for Wi-Fi access, but also from targeted shopping offers, advertising and sponsoring. These are some of the key findings of the latest Roland Berger study, Spread your wings, on the opportunities of in-flight connectivity in the airline business.
"Tickets yields have been declining for years," says Martin Streichfuss, Partner at Roland Berger. "Which makes it all the more important for airlines to develop new products for which customers are willing to reach into their pockets. All the world's airlines together serve around one billion passengers, so there's huge business potential there for the industry."
In-flight connectivity as a defining factor
A recent survey of 20 international airlines highlighted the criteria that are important to passengers in choosing a flight. Whereas factors like price, schedule and airline brand or certain product attributes used to be the focus of customers' attention, in-flight connectivity is already one of the top three search criteria on flight booking platforms today.
An Inmarsat survey from 2016 found that far more passengers (54%) would prefer in-flight Internet to in-flight meals (19%) or entertainment (16%). Two thirds of respondents would even be willing to pay for Internet access. But the potential is greater than that, as Kai-Marcus Peschl from Roland Berger explains: "More important than charging for Internet access is the possibility that airlines will have to offer their passengers personalized shopping or other services. This is what will generate additional business for the airlines."
Technology partners as a success factor
If international airlines plan to use in-flight connectivity as a differentiation factor, they will need to develop a suitable offer soon. "Things may not turn out so well for airlines that are late to begin offering on-board Internet. Passengers will not remain this willing to pay for the service beyond a medium-term horizon," says Kai-Marcus Peschl.
Airlines keen to exploit the full potential of in-flight connectivity should therefore look to cooperate with a digital partner. Such a partner should do more than just supply innovative technologies – airlines also need to be able to participate in innovations and cost savings. Besides allowing passengers to shop online, interconnectivity opens up new opportunities in flight operations and at the interface between cabin and ground services. Electronic flight bags, for example, can process real-time weather and traffic updates during the flight, allowing pilots to recalculate routing and speed. And aircraft condition monitoring systems supply data that can help avoid costly down-time.
"Internet on board is not the only step but it is an important step en route to the digital transformation of the airline industry. With the right partners and product offerings in place, airlines have great opportunities to improve their efficiency and generate ancillary revenue," concludes Kai-Marcus Peschl.
Photos g-stockstudio / iStockphoto; Eva Katalin Kondoros / Istock; ArtRoseStudio/ Istock; BONNINSTUDIO / Stocksy; Jun Michael Park; Conny Kurz; ricardoinfante / iStockphoto