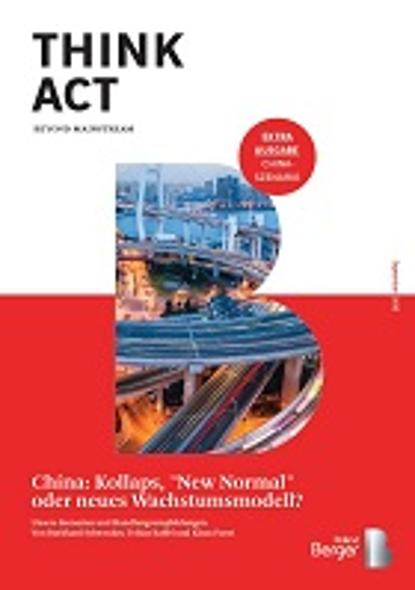 China: Kollaps, "New Normal" oder neues Wachstumsmodell?
The statistics currently being generated by the Chinese economy make sobering reading: Exports, which experienced rapid growth of 18.9% per annum between 2000 and 2013, plunged to just 6.1% growth in 2014 and in the first half of 2015 managed a mere 0.9%. Key domestic indicators such as rail transportation volume (a drop of 10.1%) or new construction projects (a fall of 15.8%) are on the slide. The magic GDP growth threshold of 7% is in danger.
This is the conclusion reached by the latest Roland Berger study, "China's direction: Stagnation, 'New Normal' or a 'New Growth' Model". As author Professor Burkhard Schwenker, the company's former CEO and current chairman of the Roland Berger Advisory Council, states, "China currently exhibits all those elements with which we associate uncertainty.
Developments in China are happening on many levels and for that reason, are difficult to interpret as the prognoses can be contradictory. Our study presents possible scenarios facing China in the future, thus providing orientation."
Schwenker and his co-authors have analyzed a number of structural challenges that China is facing: First of these is the steep increase in the level of public, corporate and private debt. As of 2014 this stood at USD 25 trillion – a 25-fold increase over 2000 and corresponding to 282% of China's GDP – twice the figure it was eight years ago. Second, the study highlights the overcapacity existing as a result of overinvestment. Ten years ago Chinese companies were running their factories at 90% capacity. This figure has dropped to 60%. Third, in terms of its demography, China has also reached a turning point. The one-child policy, the so-called "demographic dividend" that has thus far played a major role in China's dynamic growth, is now beginning to backfire with the number of people of working age in rapid decline since 2012. Estimations are that by 2050 the potential labor force in China will have decreased by 220 million people. China: Kollaps, "New Normal" oder neues Wachstumsmodell?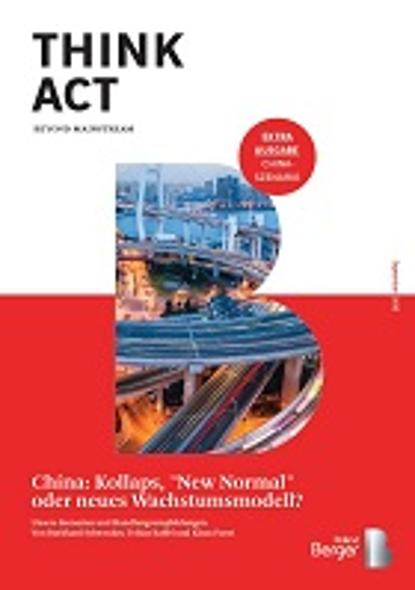 Unsere Szenarien und Handlungsempfehlungen.
Published October 2015. Available in