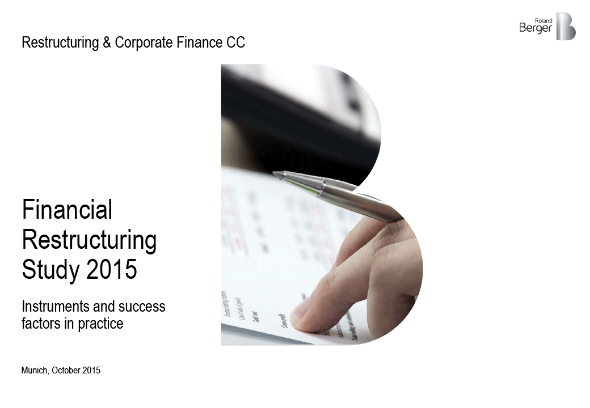 Financial Restructuring Study 2015
The new factors for success
Financial restructuring is one of the main pillars of sound management strategy in the face of distress. As banking regulations have intensified in response to crisis situations in recent years, Germany's financing environment has become more and more complex. This impacts financing decisions during restructuring situations, necessitating a more sophisticated and holistic approach. Our study examines financial data from 9,000 firms during 2006-2014 to identify the impact of financial restructuring in distress situations.
As Roland Berger Deputy CEO Germany and Head of the Restructuring & Corporate Finance Competence Center Sascha Haghani explains, "Recent examples demonstrate the fact that corporate financing needs to be restructured as a crucial element in guaranteeing turnaround success and securing a company's future." The three principal goals of financial restructuring—avoiding insolvency, reorganizing existing finances, and securing future financing—are intended to enable short-term survival and create financial "breathing room" to allow for future development.
A distressed company has several instruments for restructuring. For example, a debt-equity swap allows lenders to become shareholders, reducing interest expenses. Haircuts allow distressed firms to increase equity reserve without issuing new shares. Renegotiation of loans, issuance of new shares, and sale of non-operating assets are also options for restructuring processes.
Successful recoveries
Our study identified the production center as the most distressed sector in every year except 2008 and 2010, when the service sector exceeded its numbers. About half of the distress cases identified in the study experienced successful turnaround, with the production sector being particularly prone to successful recoveries. Broadly, a restructuring's chances of success are increased as more restructuring instruments are employed, and a successful financial restructuring balances the needs of diverse stakeholders in order to optimize burden. Sharing and a professional, integrated, and customized approach have emerged as the most important factors to success in financial restructurings.

Financial Restructuring Study 2015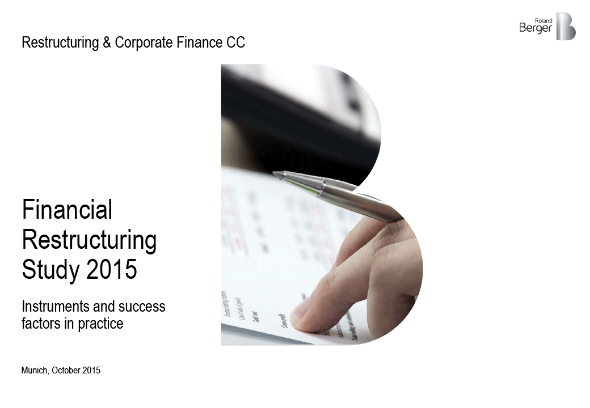 Instruments and success factors in practice
Published October 2015. Available in