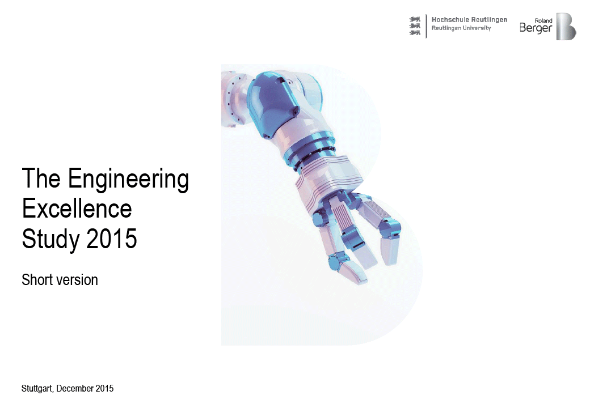 The Engineering Excellence Study 2015
Efficiency for the future
Globalization, volatility, and rising cost pressures—in today's engineering, these factors make efficiency more important than ever before. A strong set up is essential, but what will it take to reach new levels of excellence in the future? In collaboration with the University of Reutlingen, we investigated R&D across various industries in order to derive the status quo of the engineering value chain along selected key dimensions and enablers. The goal was to create transparency on the successful application of engineering best-practice both across, and per industry. We have compiled our findings accordingly to provide CEOs, CTOs, and other key decision-makers with the insights they need into R&D, key challenges, and best-practices to draw the right conclusions for their own operations.
We bring five core industries—consumer goods, aerospace and defense, engineered products and high tech, machinery and plant engineering, and automotive—into focus. Our study participants were mainly headquartered in Western Europe and from C, C-1, and C-2 levels of companies with a median revenue of around 1 billion euros. R&D headcounts averaged around 8.6% of total employees.
As we compared across industries, we discovered that companies spend about 5% of revenues on R&D—only automotive falls behind at 4.3%. R&D footprints display a local trend, driven by a need for proximity to sales and production locations. Quality staff, however, is the most important factor. We also found that only 64% of all engineering projects are completed in the planned timeframe, and that customer satisfaction comes in about 80% on average, however with much higher numbers in Europe and the US than in Asia. Although firefighting remains the exception for most companies, many still have problems finding suitable KPIs and measuring efficiency.
Future excellence
The impact of today's competitive environment can also vary greatly by industry. In this light, we round out this publication by offering a glimpse into industry-specific insights that are crucial to future excellence, optimized efficiency, and ongoing success.

The Engineering Excellence Study 2015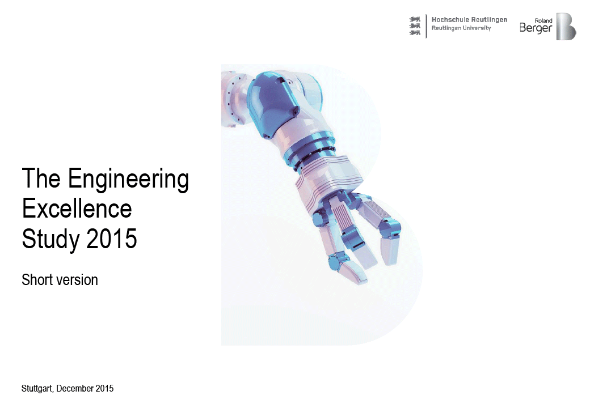 Short version