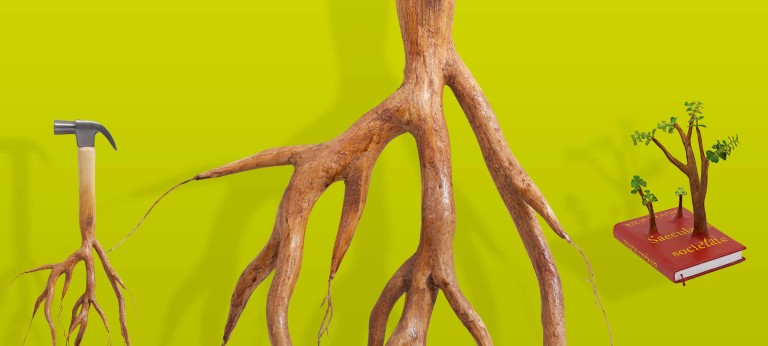 Think:Act Magazine Purpose
The purpose principle
Why having a mission gives businesses strength
The business world's fundamental values are changing. Slowly the realization is dawning that corporations can no longer exist for profit alone. In order to survive in this changing corporate climate, companies must integrate social engagement and a long-term vision into a larger agenda, and prove that they contribute to the positive development of society.
How can managers build a robust business model around a clear purpose? And how can it be anchored amidst dynamically changing corporate environments? Find out in this edition of our Think:Act magazine. One thing is sure – the outlook is promising. 85% of purpose driven companies report positive top-line growth – to the delight of their stakeholders.
The new fight against digital obsession
A large number of those who use social media, apps and digital devices say it would be difficult to give up. Children and teenagers suffer from worsening sleep quality. And Silicon Valley is increasingly waking up to the irony of digital addiction becoming a trending topic. A growing coalition of academics and technologists are continuing to struggle with the multiple downsides of device-driven dreams.
Approaches to peel people away from screens range from easy-to-use advice for starters, safety features implemented in applications by companies, and regulatory frameworks set up by legislative institutions. Still one question remains: Are the heydays of surveillance capitalism over?
How to build a company that's built to last
Most companies still don't understand the value of "institutional purpose". According to influential author Jim Collins, step one in building an iconic company is to have a deep sense of meaning.
Collins, the author of influential books like "Built to Last" and "Good to Great", says that companies fueled by an authentic purpose will always have a worthy pursuit.
In a freewheeling interview with Think:Act, he talks about creating great companies and the importance of purpose, Peter Drucker's legacy and lessons from rock-climbing and setting audacious goals.
Become a master of social media for business
Waste management: looking at a global challenge
The connection between religion and business
Inside a purpose-driven new business model
Quantum technology is leaping into our lives
The future of business will be driven by purpose
Is the Russian economy ready to boom?
Adidas is racing ahead into the digital future
The making of India's biometric Aadhaar ID program
Subscribe for Think:Act newsletter!
Curious about the contents of our newest Think:Act magazine? Receive your very own copy by signing up now! Subscribe here to receive our Think:Act magazine and the latest news from Roland Berger.
Take a look at previous editions of our thought leadership magazine Think:Act here:
Photos DrAfter123/iStock; StockPlanets / GettyImages; Kadir van Lohuizen; PR; Zunum Aero; Camille Kachani; Filippo Fontana; Martin Schoeller / August; PetrStransky / iStockphoto