Gap Year Program - Vous êtes étudiant
Vous avez envie de découvrir le monde du conseil et des start-ups ? Vous souhaitez travailler dans un environnement entrepreneurial et international ?
Le Gap Year Program de Roland Berger est fait pour vous !
Qu'est-ce que le Gap Year Program ?
Le Gap Year Program est un programme complet de stage de césure, qui dure 11 mois, entre le mois de septembre et le mois de juillet.
Il est composé de 3 périodes distinctes :
Un stage de 4 mois au bureau de Paris en tant que stagiaire consultant ;
Un stage de 3 ou 4 mois dans une start-up ou scale-up partenaire (Cityscoot, Evaneos, Mirakl et bien d'autres) ;
Un stage de 3 ou 4 mois au sein d'un de nos bureaux à l'étranger (Amsterdam, Casablanca, Dubaï, Montréal…).
Roland Berger vous accompagne tout au long du programme, du recrutement au suivi, en passant par l'intégration et la logistique.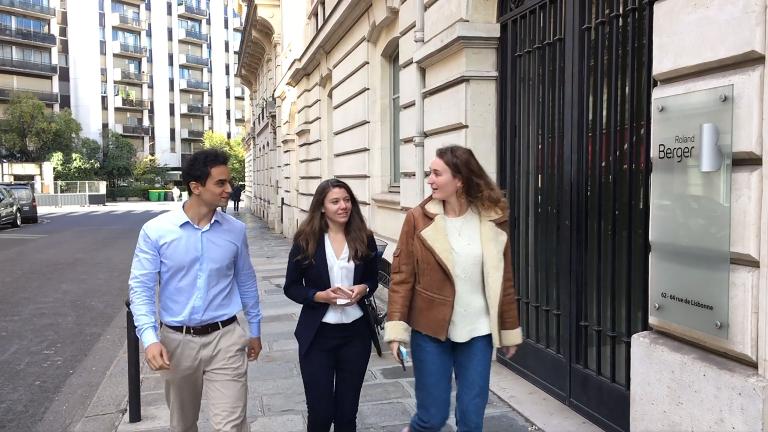 Be With Us - Découvrez le Gap Year Program
A qui s'adresse notre programme ?
Notre programme est destiné aux étudiant(e)s en Master au sein d'une grande école de commerce ou d'ingénieur commençant leur année de césure.
Quels profils recherchons-nous ?
Nous recherchons des personnes ayant une grande capacité d'analyse et de synthèse sachant allier pragmatisme et créativité. Nos futurs stagiaires devront également posséder une réelle ouverture d'esprit et être dotés d'une fibre entrepreneuriale. La maîtrise de l'anglais est indispensable, et une troisième langue serait un vrai plus.
Quel est le processus de recrutement ?
Vous aurez un mois pour soumettre vos candidatures qui seront minutieusement examinées. La phase suivante sera composée de trois entretiens : un avec les Ressources Humaines, un avec un consultant et un avec un de nos managers.