The legendary management consultant Peter Drucker famously wrote in 1967 "We are becoming aware that the major questions regarding technology are not technical but human questions."
Almost fifty years later Roland Berger CEO Charles-Edouard Boueé set the tone at the Peter Drucker Forum "How human is your digital agenda?" held in Roland Berger's Munich office. More than 50 high-ranking business leaders from the old and new economies listened to a lively and informed debate on the most significant changes in the workplace in the still juvenile 21st century. The speakers they were listening to were Andreas Haug (e.ventures), Laurent Blanchard (Dassault Systèmes), Jane McConnell (NetJMC), Sarah Cliffe (Harvard Business Review), Charles Edouard Bouée (Roland Berger), Dr. Lars Finger (Otto Group), Thomas Sattelberger (STEM Initiative Germany), Dr. Richard Straub (Peter Drucker Society).
It's human capacity that's still running spare
According to Bouée, "Digitization should not be seen merely in terms of machines replacing humans. Technology is the tip of the iceberg, one panel of a broader triptych including organization and culture." A change that was only technology driven had little prospect of success, Bouée added. Read more about this topic in an interview with "Deutsche Welle", he had given in the run-up to the forum.
Peter Drucker Society President and co-host Dr. Richard Straub immediately picked up the baton saying that of all the resources available, it was human capacity that was still running spare.
Intelligently chaired by Harvard Business Review Senior Editor Sarah Cliffe, the Forum panel included Dassault Systèmes European Vice-President Global Field Operations Laurent Blanchard, Otto Group Vice-President E-Commerce Dr. Lars Finger, e.Ventures Managing Partner Andreas Haug, digitalization expert Jane McConnell and national MINT Forum spokesperson Thomas Sattelberger from the STEM Initiative Germany.
Setting innovation potential free
Dassault Systèmes Laurent Blanchard is a self-confessed "Digital Optimist". In Blanchard's words "digital is breaking boundaries to reveal people's innovation potential thus creating an environment that is ultra-light, ultra open, ultra agile and highly versatile." Highlighting his own experience of observing Chinese schoolchildren utilizing programming skills, he explained that digital knowledge is redefining education: "Digital is about being in a continuous learning environment."
However digital is nothing new as Otto Group's Vice President E- commerce Dr. Lars Finger explained, "Otto Group has been embracing digital change for 20 years" with a clear strategy encompassing four core elements: transformation, participation, creation and venture. As Finger added, "It is about technology but it is not enough to hire tekkies – the whole organization needs to be taken along that journey".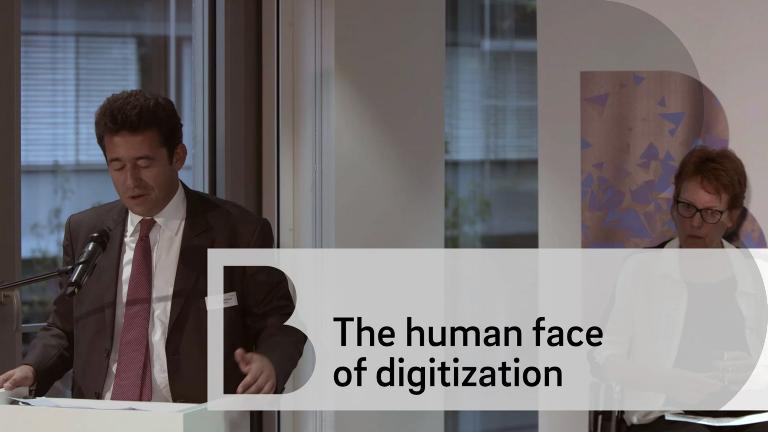 Insights from inside
Managing Partner at e.Ventures Capital Partners Andreas Haug provided a refreshing look from within the digital commerce world. There, lack of heritage is actually a strategic advantage as digital natives are concerned with changing the world. Where there are no limits to capital access, resources, talents, technology and knowledge there is equally no room for excuses.
Haug is also a fan of breaking boundaries: "Open source and sharing is replacing intellectual property and monopoly of knowledge." In this environment it goes with saying that pace is paramount, as Haug confirmed, "If everything is under control then you are not moving fast enough". If that wasn't enough to generate discussion, Haug rounded off by taking leave from the work-life-balance, expounding the new concept of "living my life in search of meaning".
The research perspective
Digitalization expert Jane McConnell brought a smile to many faces in the audience with a "traditional" flip chart presentation. The result of many years of research was more serious. Although digital is being deployed throughout industries, the impact is still not visible with people unable to learn in the natural flow of work. Work cultures clearly have a strong correlation to digital maturity.
McConnell's conclusion was that the main barrier to change is mindset and her advice to organizations was, "Reinforce purpose, encourage experimentation, trust and decentralize, and open up to your external environment".
About technological and sociological innovation
Spokesperson, National MINT Forum Germany and former top manager Thomas Sattelberger is passionate about transformation and yet he sees Europe in a dilemma. While China is starting to define itself as a new-born digital powerhouse and the United States is rediscovering its industrial roots, Europe is still talking about Industry 4.0. Rather than increasing innovation, the talk is merely of increasing efficiency, with Sattelberger saying, "Digitalization in industry should not stop at preventative maintenance. There needs to be much more cooperation between start ups and established organizations".
Thomas Sattelberger is a strong proponent of what he calls the ambidextrous organization; one, which is more in tune with what is happening in society as a whole, as "technological innovation and sociological innovation are twins". Sattelberger concludes that the issue of leadership is central to the success of the democratic organization. In the words of Charles-Edouard Bouée, "Transforming organizations into digital ones won't be possible without the awareness and determination of management".
Peter Drucker once described managers as "society's major leadership group". Management will have to live up to this calling in order for the digital agenda to be truly successful.
The Peter Drucker Society's annual forum in Vienna will take place on November 5th and 6th, 2015.
Photo Credit: Roland Berger