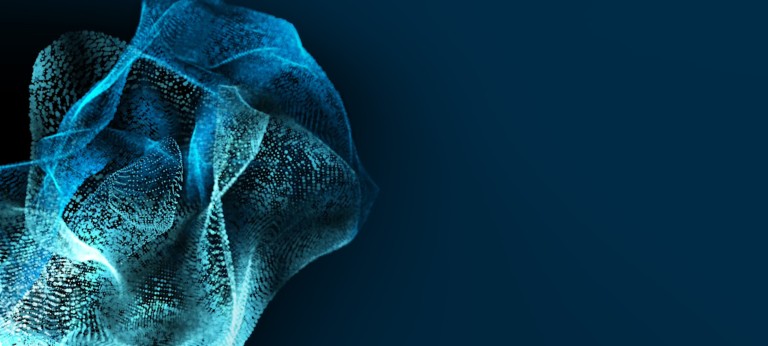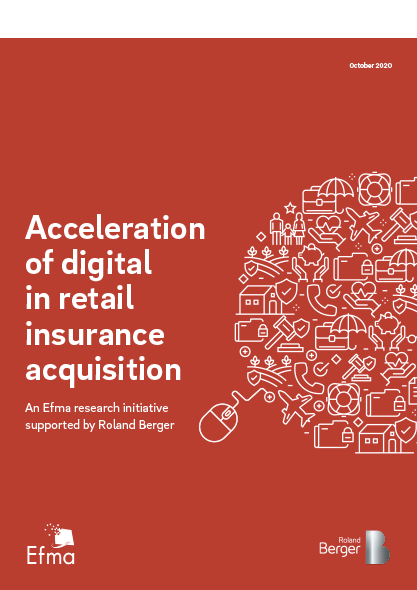 Acceleration of digital in retail insurance acquisition
An Efma research initiative supported by Roland Berger
For many European countries, the Research online, Purchase offline (RoPo) trend has kept on growing in retail insurance products distribution for several years. The Covid-19 crisis has also accelerated the digitalization of insurance customer acquisition, as customers have spent more time online during the lockdown period across Europe, giving a boost to players that are well positioned and visible online. Its full impact is yet to be assessed but is nonetheless expected to persist overtime.
This joint Efma and Roland Berger study assesses the acceleration of digital in retail insurance acquisition and examines the key success factors involved in defining and implementing a sustainable model for digital lead generation and conversion. The purpose is to assess the best practices insurers have established or are looking to establish and share their vision on how they will adapt to an increasingly RoPo environment in most countries in Europe.
New acquisition models in retail insurance
Research online, Purchase offline
In Europe, although a large share of customers search for information online on insurance products, most will still finalize their purchase offline. Even for relatively standard products such as motor, home and health insurance for individuals, only a small share of customers (less than 10%) will purchase their product online end-to-end.
As customers heavily search for insurance products online but few actually make their purchase online, insurers have been looking to capitalize on that trend and acquire customers digitally, developing various business models, from direct digital sales to omnichannel models, with different levels of success.
Digital acquisition cost inflation
In light of this continued development, growing competition has built up among insurers with each player battling for digital visibility and customer attention. One of the main consequences of this rise in digital acquisition competitions has been an increase in the related acquisition costs, notably SEA (Search Engine Advertising) campaigns.
Development of digital lead generation alternatives to SEA
This digital cost inflation has threatened the economic model of digital customer acquisition in insurance. It has paved the way for new lead providers that have started to offer alternatives to SEA methods to support insurers in their quest for digital visibility. Mainly three types of models are emerging: aggregators, specialized lead generators and diversified, non-core lead generators.
Emergence of local lead generation partnersParallel to the development of alternative lead generation sources and partners, new types of partners have emerged to assist insurers in the development of local lead generation.
Key Success Factors in lead generation and conversion
Across Europe, insurers have adapted to this new environment. They have built upon the trends and refined their acquisition model to increasingly capitalize on digital leads and to optimize their conversion rate. The following framework classifies the eight key success factors in digital lead acquisition and conversion that insurers have focused on, based on interviews with industry leaders, lead providers and insurer partners. These eight key success factors are:
Build a strong experience in paid lead generation
Track the overall performance of paid leads
Optimize all dimensions of SEO to gain organic traffic
Redefine the brand positioning and its differentiation
Develop an adequate product offer
Strike the right balance between all channels
Free up commercial time in the physical network
Support the physical network centrally and locally
For each of these key success factors, the study assesses the various maturity levels and best practices currently observed in the market among insurers, offering a snapshot of the direction the insurance industry is taking and which levers an insurer can implement to reach the next maturity level.
Going forward: strategic and operational implications for Insurers
Insurers can take concrete actions to overcome barriers, reach their ambition in digital acquisition and build a sustainable model. Having a clear vision of what a successful acquisition model can look like and designing an actionable plan should then be top priority for insurers. Ensuring economic sustainability and, hence, relevance in digital customer acquisition will remain a critical topic in insurance in years to come. To support them in this process the study identifies four main types of levers to help insurers to accelerate their development in digital customer acquisition:
Paid lead performance management
Brand value differentiation
Full omnichannel deployment
Physical network optimization
Learn more about digitalization of insurance customer acquisition. Register to download the full study.