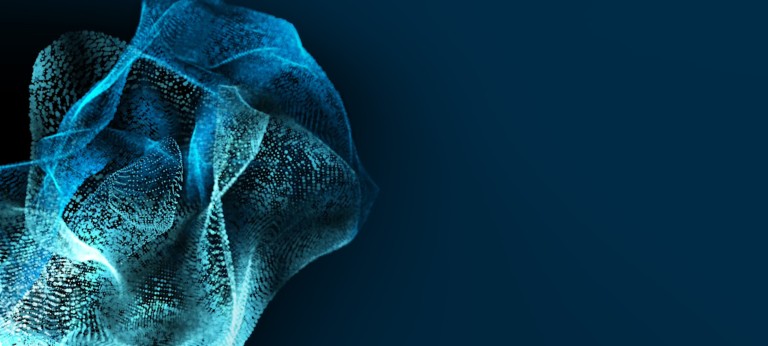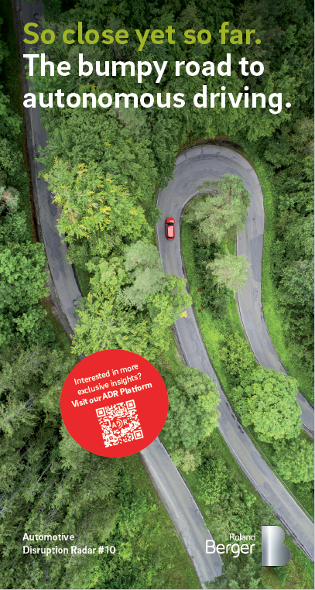 Automotive Disruption Radar #10
Bump in the road: Is the push for autonomous driving losing speed just as it nears the finish line?
Roland Berger's Automotive Disruption Radar is 10! In this milestone edition, we highlight the changes in the industry since ADR1 in 2017, especially around electrification, and provide the usual in-depth analysis of the current state of play, finding that developments in autonomous driving are showing signs of slowing down.
The tenth edition of the Automotive Disruption Radar is here, marking a major milestone in our twice-yearly tracking of developments in the global automotive sector. Now covering 23 major markets, up from the original 10 in 2017, it shows just how far the industry – and the ADR – have come.
The latest results, for example, show that the share of electric/plug-in hybrid vehicles sold as a percentage of total global vehicle sales has jumped from 1.5% in 2017 to 6.9% in HY1 2021; the number of charging stations per 100km has more than quintupled to 2.8; and the number of cities with some form of restrictions on ICE vehicles has leapt from 88 to 155. Overall, the global average country score has soared by 25%.
The Netherlands again tops the ranking, as it has on several occasions, with a highest-ever score of 87. China comes next with 85, followed by Sweden and Singapore. Meanwhile, Norway leads the way among ADR10's five new additions, going straight into the top 5.
More generally, data from the 26 disruption indicators reveals that the Covid-19 pandemic, while damaging to the industry, continues to have a positive impact on disruptive technologies. It also shows that the electric revolution and developments in autonomous driving continue to evolve, albeit at a slower pace.
Five new countries
With the top-ranking nations largely unchanged, ADR10 focuses instead on the five new entrants: Norway, Israel, Brazil, Thailand and Indonesia. Norway does best, with its strong performance in the transition to electric vehicles (EVs) earning it fifth place. The Nordic nation leads the way when it comes to EV/plug-in hybrid vehicle (PHEV) sales as a percentage of total vehicle sales, with a huge share of 79%.
Israel places eleventh, with mostly average scores across the 26 ADR indicators. Brazil, meanwhile, gives the ADR a first glimpse of the automotive situation in South America, coming in at number 19. Thailand (#20) and Indonesia (#23) bring up the rear, despite several positive signs around EV investment.
The EV market hots up
After ADR9 showed a clear breakthrough in the EV market, ADR10 suggests that the battle between startups and OEMs in the market is hotting up. It identifies several reasons for the pick-up in the pace of electrification. As well as the Covid-19 pandemic, the emergence of all-electric market newcomers (such as Tesla) and pressure to reduce emissions are driving the transition from ICE vehicles to EVs. For example, the Volkswagen Group and BMW Europe want 50% of their new cars to be battery electric by 2030.
The EV newcomers, meanwhile, are experiencing mixed fortunes. Tesla, for example, continues to lead the industry when it comes to software architecture and artificial intelligence. But its vehicle innovation leadership is now being challenged by the OEMs. This spells trouble for newcomers that are clearly positioned as EV OEMs. Companies such as Rivian, Fisker, Faraday Future and Lucid face an uphill battle to offer products that are superior to the latest offerings of OEMs and more advanced EV producers. Only in China are new OEMs and EV players positioned strongly in comparison to traditional OEMs.
Autonomous driving hits a bump
After 'peak hype' over autonomous driving was reached in 2018 and following the launch of the first commercial service in the US state of Arizona in late 2020, developments have slowed. The technological hurdles are still very high and currently the bulk of investment money is being channeled into EVs to launch the new generation of fully electric vehicles. Even so, the majority (60%) of ADR10's survey respondents expect that fully autonomous commercial mobility services will be operational by 2030. Recent developments outlined in the ADR10 report suggest this is realistic.
Yet the key question of how to earn money from AV services in a sustainable manner remains unanswered. Viable and long-term business cases are still being worked out, and no OEM has developed a sustainable model.
In our opinion, there are three enablers and prerequisites for OEMs: A premium interior including digital immersive technologies for human-machine interfaces (HMI), seamless access to a vertical entertainment and gaming stack allowing a revenue share model for these services, and as a prerequisite a micro-services-based software architecture. No matter which course they choose, the Automotive Disruption Radar will remain an essential tool in tracking progress, identifying trends and helping OEMs to better plan their business strategies.