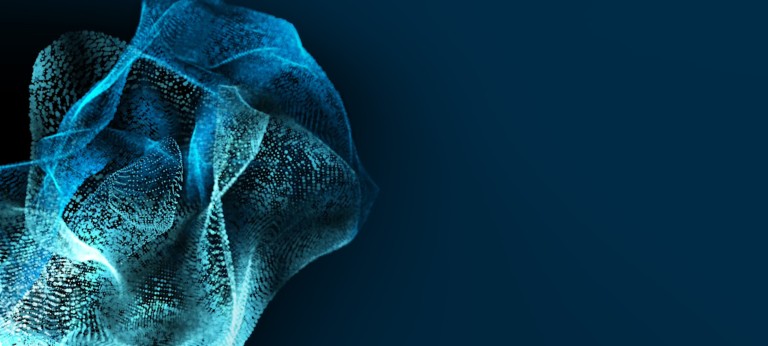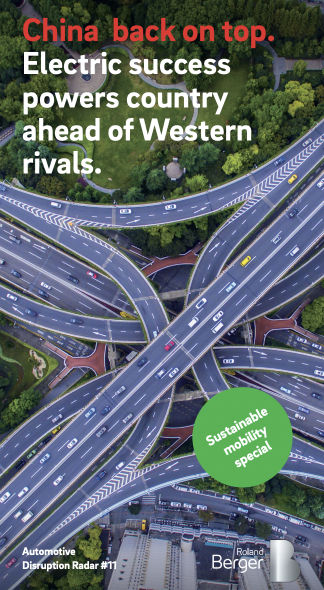 Automotive Disruption Radar #11
China powers ahead: Electric success puts country back on top of ADR rankings
China has regained its place as disruptor-in-chief among the world's leading automakers, according to the latest edition of the Automotive Disruption Radar. The country knocked the Netherlands off the top spot after a particularly strong performance by its electric vehicle industry. In the ADR11 report, we look at the full results, deep dive on green automobile technology and examine why China poses a threat to traditional OEMs.
China is back in disruption pole position after a gap of more than two years. That's the key finding of the eleventh edition of the Automotive Disruption Radar (ADR11), our twice-yearly survey and report that tracks 26 automotive indicators across 23 countries.
The People's Republic topped the rankings thanks to its leading position in the electric vehicle (EV) industry , placing first in total EV sales and number of models available, and second in the number of potential car buyers considering an EV as their next vehicle (85%). In a boost for its autonomous driving industry, it also led the way in 5G technology, with 500m Chinese now having access to a 5G network. Following close behind China are former leader the Netherlands in second place, Singapore in third and Norway and Sweden in joint fourth.
ADR11 also reveals that the success of new Chinese EV producers and their popularity in their home market is posing a growing threat to traditional OEMs. Our results show that Chinese brands are eating up market share, and buyers much prefer them to Western rivals. A key factor here is sustainability , the subject of this edition's in-depth focus.
Top performers
China has been a strong performer in the ADR series since its inception in 2017. It finished top in editions 2-7 and has always been in the top three. After losing its crown to the Netherlands, ADR11 marks a full return to form. The Netherlands hasn't given up the fight though. It also performed well in the EV-related indicators, scoring particularly well in the number of EVs sold as a percentage of total vehicle sales (25%) and in the density of charging stations (second only to South Korea).
Singapore again benefitted from its unique position as a highly urbanized, technologically advanced and densely populated island state, which make it ideal for shared vehicle models and testing autonomous driving technology .
There were several other notable performers. Norway scored well after its parliament voted to ban the sale of combustion engine-powered cars and vans from 2025 – five years ahead of other zero-emission vehicle frontrunners, such as the UK. Meanwhile, Germany's new law allowing vehicles with level 4 autonomous driving capabilities (no human interaction) on public roads, the most progressive of its kind, helped to lift it into seventh place. Among the improvers, Thailand (21st place) pledged to end the sale of combustion engine vehicles by 2035 and Brazil (19th place) announced its support for biofuels. See the full report for more details.
Sustainability and the challenge from China
The ADR series has always firmly indicated that an all-electric, fully autonomous world is only a few years away. A side effect of this will be increased sustainability. To gauge sentiment on this important issue, in ADR11 we added questions on green automotive technology to the ADR survey, which is completed by 1,000 adults with driving licenses in each of the 23 ADR countries.
It found that 39% of respondents think the industry could be doing more to cut emissions, while 53% are positively influenced by a brand's net zero target announcements. More worryingly, only 13% of respondents said they would definitively stick with traditional OEMs when buying an all-electric car. Trust levels were lowest in Western European countries.
Branding appeared to be most relevant in China, where 80% of interviewees said they were likely or very likely to consider a Chinese brand. In the full report, we look at the reasons behind the dominance of Chinese OEMs in their home market, and the implications for traditional OEMs if they fail to win over Chinese buyers. We also propose solutions to counter the challenge and recapture revenue, based around tailoring designs to the Chinese market and diversifying revenue streams.
We conclude with a warning – that failing to adapt to the rise of new Chinese EV makers could see traditional OEMs pushed out of the world's largest auto market.
Sign up for our newsletter
Sign up for our Roland Berger newsletter. You will get regular updates on newest publications across all our expertises.