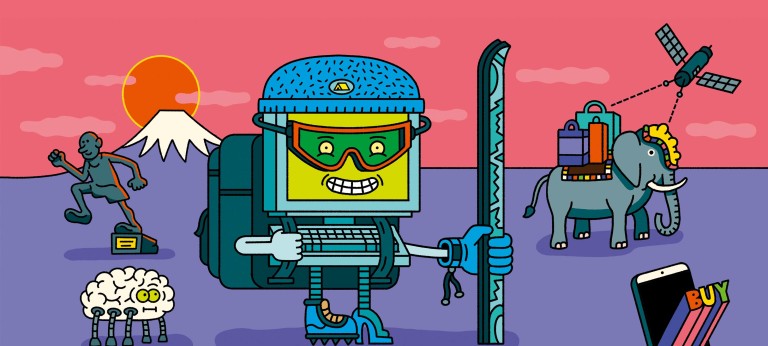 Think:Act Magazine "Digital Darwinism"
Digital transformation means taking the long view
Walmart, Porsche and DBS are all examples of how traditional companies can adapt to digital change
by Geoff Poulton
illustrations by Serge Seidlitz
Some large traditional companies are succeeding in transforming themselves to flourish in the digital economy. But adapting to radical change requires taking a long view of how technology can work for you – and adopting an equally radical mindset.
Change is hard. And transforming a legacy company into a digitally savvy enterprise is one of the hardest changes there is. A recent survey named it the number one executive risk in 2019. But it's a shift that's unavoidable. "With digital transformation, it's not a question of whether you should change or not," says Sunil Gupta, a professor at Harvard Business School and the author of Driving Digital Strategy: A Guide to Reimagining Your Business. The main question is: How do you change? That's because operating digitally enables companies to improve efficiency, learn more about their customers and deliver better service. It's not just about websites and apps now; digital technology is fundamentally altering business models and consumer behavior .
But certain fundamentals facilitate success. "It sounds simple but having a clear sense of direction is perhaps the hardest thing to master," says Gupta. "Understand the issue you're trying to address. Think of the customer. If you don't know where you're going, then you've no idea what can take you there, and you'll be distracted by all manner of diversions along the way."
According to Chris Skinner, fintech expert and author of Digital Bank and Digital Human, that direction then has to become part of the entire company culture. "A lot of companies just assign budget to delegated projects, but the leadership must be fundamentally invested in changing the company and ensure it's understood by the entire workforce – not just the IT department."
That may require rethinking skills and processes that have been successful for decades. But tread carefully, Gupta warns. "You want to create change, not animosity. Don't try and replace an entire company culture from one day to the next, and look after your employees – retrain and reskill them where necessary."
There are numerous examples of companies that have failed to heed these principles in recent decades, from Kodak to Blockbuster to Toys "R" Us. Rather than analyze those established examples, we are going to focus on three key areas where digital transformation was a threat to existing businesses. First with time, where speed and efficiency is everything. Then quality, where an ever-tighter focus on the customer is vital to staying on top. And finally: cost, where new technology can allow for savings and radical change.
Walmart was once the classic low-cost bricks-and-mortar store, and it became the world's largest company. Then along came e-commerce, and for years it watched as the likes of Amazon muscled in on its territory, unsure how to adjust its previously successful approach. Sunil Gupta says the strict separation between Walmart's online platform and its physical stores cost the company early on. "For a long time, you couldn't even return an online purchase at a store because they were running as separate entities."

Then Walmart appointed Doug McMillon as CEO in 2014. Aged 48, the company's youngest ever chief executive started by focusing on Walmart's strength – its thousands of stores – and introduced in-store pick-up for online orders. But he also knew that to compete with Amazon, speed was crucial, so Walmart ramped up the expansion of automated e-commerce fulfillment centers to ensure rapid delivery to customers and stores. To transform Walmart into an attractive e-commerce option, however, McMillon needed to bring in external expertise and expand the brand's portfolio. So in 2016, Walmart bought e-commerce site Jet.com for $3.3 billion and made founder Marc Lore head of e-commerce operations. Many analysts saw it as a huge gamble, one that appears not to be paying off. A June 2019 Reuters report said Jet had "failed to become a driver for online grocery sales and growing market share in urban areas."
But did Walmart learn its lesson? To broaden its global appeal, in 2018 the US retailer paid $16 billion for a majority stake in India's Flipkart and is partnering with Japanese e-commerce giant Rakuten. Integrating these online companies into the Walmart family will not be easy, as its experience in China showed. Walmart sold its Yihaodian subsidiary in 2016.

Behind the scenes, Walmart is also optimizing its underlying digital infrastructure. In a five-year partnership with Microsoft, Walmart will benefit from Microsoft's Azure cloud platform and the two will work on projects in machine learning, artificial intelligence and data platforms. To back it up, in May 2019, Walmart appointed Google, Amazon and Microsoft veteran Suresh Kumar as CTO.

The company's hard work – not to mention considerable investment – is starting to pay off. In the first quarter of 2019, it announced its best US store sales figures in nine years and a 37% jump in US e-commerce sales. Last year, it overtook Apple to become the third-largest online retailer in the country, behind Amazon and eBay. That may be promising, but Walmart's e-commerce turnover is still less than 10% of Amazon's. After dragging its feet for so long, McMillon knows that speed is crucial. "We're thinking in the right way and we're moving," he told Harvard Business Review, "but not fast enough."
Shifting into digital gear
For almost 90 years, Porsche has stood for finely engineered, quality sports cars. But in focusing all its attention on its products, the Germans dropped the ball in their customer management. In 2008, the company found itself languishing in 26th place in market researcher J.D. Power's Customer Satisfaction Index.

In response, Porsche began transforming its customer relationship management with a wealth of new digital services. "Porsche will become a platform provider as well as a mobility provider," said Porsche CFO Lutz Meschke in March 2017. "This will enable us to branch out beyond the boundaries of the automotive sector. We must not lose sight of Porsche customers when they shut the car door. Instead, we must accompany them in the rest of their life too."

To do this, Porsche assigns each customer a unique ID, which is used in every interaction between the two parties, from showroom visits to Porsche's suite of apps. This helps the company build up a comprehensive picture of each individual and analyze product performance.
Porsche Connect is a virtual co-pilot that handles everything from navigation to news, music or smart home management as you return from work. An extension of this service is Porsche 360+, a virtual personal assistant designed to make life easier for customers and provide access to exclusive experiences. The more the AI-powered service learns about a customer, the more tailored its suggestions become, from travel and restaurants to exclusive events and car services. And if that's not enough, Porsche Road Trip provides curated route suggestions, while Porsche Impact helps customers measure and offset their carbon emissions.

That the car company is complementing these customer service innovations by ensuring its core skill remains state of the art is to be expected. "Our corporate culture has been shaped by the field of engineering, and we are very good at continually optimizing things further," Lutz Meschke told porsche.com in January 2019. But the need for new solutions will become greater. At the heart is the customer: "You need to develop products that treat people as unique individuals. It's no longer the case that people need to adjust to technology; rather, technology needs to serve people – which means that we need to understand people better."
Development Bank of Singapore
When was the last time you went to a branch of your bank? Physical interaction used to be the bedrock of banking, but now technology has made it increasingly rare. That's allowed new, digital-only banks to thrive thanks to lower costs and more flexible customer service innovations. Legacy banks are under pressure to respond – but that's not easy, says fintech expert Chris Skinner. "Their business model and infrastructure are designed for a different generation. Digital transformation is a mammoth task." No one knows that better than Piyush Gupta, CEO of the Development Bank of Singapore (DBS). When Gupta joined DBS in 2009, he was tasked with turning around a conservative, bureaucratic institution full of outdated technology.

He divided DBS's digital transformation into two phases. First, the bank revamped its back-end technology, building in-house expertise. Then he was ready to build the digital bank. "Our aim was to be the 'D' in GANDALF – a term we coined to refer to Google, Amazon, Netflix, Apple, LinkedIn and Facebook. We wanted to operate more like a tech company." To do that, he had to change the mindset of 26,000 employees. Training programs were revamped, experimentation encouraged across every department and partnerships forged with startups and universities. "It was the mandate of the entire organization," Gupta says.
But it wasn't without challenges. "Because we wanted to get the whole organization on board the transformation agenda," says Gupta, "this can create a strain on organizational resources. To prevent this, we do have to constantly weigh competing priorities, and balance trade-offs. In 2016, we acquired the retail and wealth business of ANZ in Asia – the transaction has yielded good results, but because of the scale of the integration and management time consumed, this set us back about a year in our digital transformation. It is imperative that we reimagine banking but managing for the short term while investing for the long term is a delicate balance." But DBS is nevertheless succeeding, believes Chris Skinner. "The board has given top management breathing space to change the entire company culture. They've removed the stress of shareholder return and investor relations for a specific period and allowed them to focus on what they need to succeed."

DBS has gone from 85% outsourced IT to 85% insourced; 80% of its systems are cloud-enabled, while testing is almost completely automated. It's launched property, car and electricity marketplaces as well as a digital-only bank in India. Since 2015, Gupta says the increased digitalization of the bank's consumer and SME businesses has lowered the cost-income ratio by half a percentage point each year. It's brought DBS a slew of awards, from World's Best Digital Bank to Global Bank of the Year and Best Bank in the World. But Gupta says DBS is still a long way from operating like the leading technology companies he believes will become increasingly involved in financial services. "The pace of change is relentless. We cannot afford to stand still even momentarily."
Curious about the contents of our newest Think:Act magazine? Receive your very own copy by signing up now! Subscribe here to receive our Think:Act magazine and the latest news from Roland Berger.