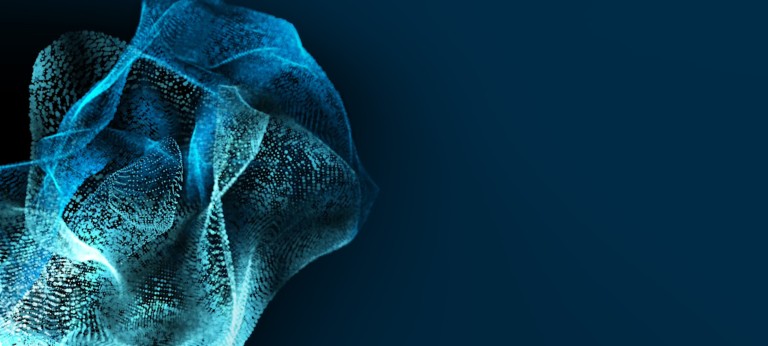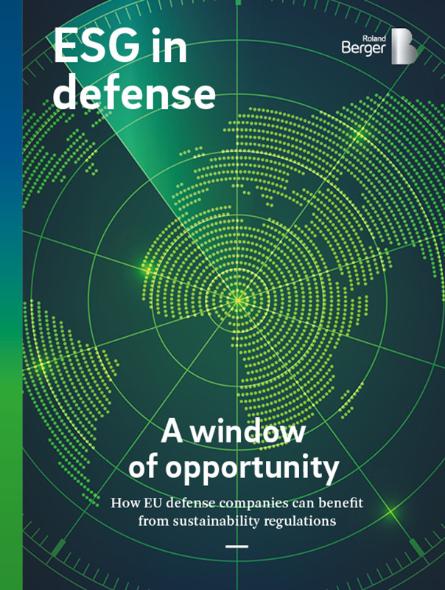 ESG in the defense industry
How the EU's defense players can turn sustainability regulations to their own advantage
For now, the ongoing conflict in Ukraine has eased some of the pressure the defense industry has experienced in recent decades. The renewed realization that effective deterrence and robust military resources are perhaps not such a bad thing after all has bought the industry some time. Certain pressures – such as the climate-driven imperative of sustainability – are nevertheless here to stay. Roland Berger has therefore taken a deep look into what new demands are being placed on the defense industry, where it currently stands on environment, social and governance issues, what could lie ahead and, above all, how it can respond.
The rise of ESG and its implications for defense
As in all other industries, growing attention to environment, social and governance (ESG) issues presents new challenges to the defense industry. The climate emergency is forcing players in this sector to assess their carbon footprint and take a stand in the economy-wide drive toward net zero.
Pressure to adapt in these and other areas also creates opportunities, however: A sharply defined ESG profile is a powerful way to attract both talent and finance. Yet Roland Berger identifies defense-specific constraints as a more direct threat to the industry – much of this threat coming from a combination of financial and regulatory issues. Following the lead given by national governments and the EU, banks are free to decide whether companies are green, inclusive or diverse enough or well-enough governed to merit loans and funding. Regulations such as the EU taxonomy give them tools to assess how much defense players' economic activities genuinely contribute to, say, sustainability. Moreover, concerns have been voiced that an industry that makes much of its money selling weapons of all kinds – including controversial weapons not covered by international treaties – can per se never hope to qualify as "sustainable".
In light of the current situation in Ukraine, the implicit threat of complete sectoral exclusion has been rolled back somewhat at the regulatory level. Even financial institutions have lately been a little more understanding. The problem, though, is that some of the latter voluntarily go above and beyond what is legally required. Banks in Sweden and Germany have already made their first moves in this direction. And if this becomes a trend, it could seriously threaten defense players' access to equity investment, debt financing, trade financing and even insurance. Why, the banks could ask, should we invest in an industry whose very existence runs counter to the values we uphold? It goes without saying that any large-scale development along these lines would profoundly affect the performance not only of front-line defense corporations but of their entire supply chains as well.
The writing on the wall
While the most serious and immediate threats to defense players have abated for now, Roland Berger sees it as crucial to put this window of opportunity to good use. Looking beyond the regulatory and financial dimensions, they must grasp the importance of various ESG criteria to their different stakeholders. To this end, Berger has drawn up the following frame of reference detailing the many dimensions of all three aspects (E, S and G) that must be addressed.
Once they have done that, they must reposition themselves along the environment, social and governance axis and turn this challenge into a source of benefits to themselves. Mapping out the expectations of stakeholders in a clear and logical structure, Roland Berger insists that defense players must "prioritize the critical over the optional" and understand that, even in best-case scenarios, they must prepare to deal with certain evolving constraints.
Turning constraints into opportunities
Where defense players stand today
By conducting interviews, sifting through published materials, examining ESG communication and engaging in further research of its own, Roland Berger was able to benchmark the "ESG maturity" of a sizeable number of defense companies with activities in Europe and around the globe. (Please note: This exercise was completed by mid-March 2022, so it does not factor in developments in the intervening period.)
Not surprisingly, the findings painted a varied picture with each company concentrating on topics judged to be of most relevance to its own core business. Depending on their existing ESG policy commitments and activities to date, Berger's analysis divides defense players into the advanced, average and laggard groups, each of which will have to respond differently to the challenges ahead.
As detailed in the paper, environmental sustainability criteria generally command high priority, with many companies actively targeting cuts in carbon emissions in response to tightening regulations. Some have already declared net zero ambitions. In contrast, far less attention has so far been paid to issues such as biodiversity, raw materials and volatile organic compounds (VOCs). More and more defense players are also taking steps to address social topics, especially in relation to occupational safety and gender equality. Though governance and compliance are traditionally strong suits in such a heavily regulated sector, it is blatantly apparent that top management is, in most cases, neither fully on board with nor sufficiently incentivized to rigorously pursue ESG topics. Broadly speaking, publicly traded and dual-use defense players (with business interest in civil aviation too, for example) have so far done more, presumably in response to greater public scrutiny.
Anticipated changes in the playing field
The ESG landscape is still in flux. In the years ahead, defense companies will constantly have to adjust and fine-tune their corresponding policies as the regulatory environment evolves and stakeholder expectations change. Again, Roland Berger has dug deep and identified relevant trends across defense players' customers, employees and suppliers – three stakeholder groups that, alongside regulators and financial institutions, are of key importance to the industry.
Customers
Since most customers of defense companies are government agencies, military forces or other defense players (buying components or systems), ESG advances at the expense of quality or performance will not be tolerated. That said, these public customers themselves are formulating specific (and largely environmental) strategies that will gradually filter down into tenders as a way to propagate innovation in areas such as fuel consumption and energy independence. While this process is set to continue, change will come slowly due to piecemeal adoption of eco-design approaches and the long lifecycles of defense systems.
Employees
Diversity , inclusion, gender equality and general wellbeing at work are a trump card in attracting and retaining what, by definition, must be top-performing employees in a leading-edge industry. By playing this card astutely, defense players can give themselves a powerful recruiting advantage in a fiercely contested labor market.
Suppliers
Themselves a part of the defense industry , suppliers perhaps face somewhat less direct pressure and focus their expectations on measures to improve supply chain sustainability. For them, Roland Berger sees four key topics whose importance will increase going forward. Reducing carbon emissions remains top of the bill, with the focus now pivoting to Scope 3 emissions. Eco-design principles will seek to reconcile environmental needs with the requirement for product performance and profits. Pressure from society at large will also keep respect for human rights high on the agenda in supply chains. Lastly, both tighter legislation and the sensibilities of young talent will ensure that growing attention is paid to gender equality, diversity and inclusion issues.
How defense players can respond
To date, it seems that too few defense players have yet recognized the upside potential in turning environment, social and governance developments to their own advantage. Roland Berger's recent investigation highlights several practical steps they can take to change that.
To counter the risk of sectoral exclusion becoming an issue again, players must lobby hard to win over public understanding of their industry's position and vital importance. While doing this, they must demonstrate how the technologies they create (such as surveillance tools to monitor compliance) are helping to make the world more sustainable. Above all, they must persuade financial institutions of their sustainability credentials to safeguard access to the funding they need.
It is equally important for defense players to realize that just doing enough to ensure regulatory compliance is no longer acceptable. They must understand the constraints that lie ahead, craft ambitious ESG policies, map out how they intend to reach the targets they set – and live out these commitments day in, day out.
Being seen to take ESG concerns seriously can itself transform what has too long been perceived as a chore into a golden opportunity: to do good for the planet and humanity, obviously, but also to attract and retain the talents they need to continue delivering profitable business results in the process.
Register now to download the full PDF regarding "ESG in Defense" including key insights, suggestions, and current development for players in the defense industry. Additionally, you get regular insights into Aerospace & Defense topics.