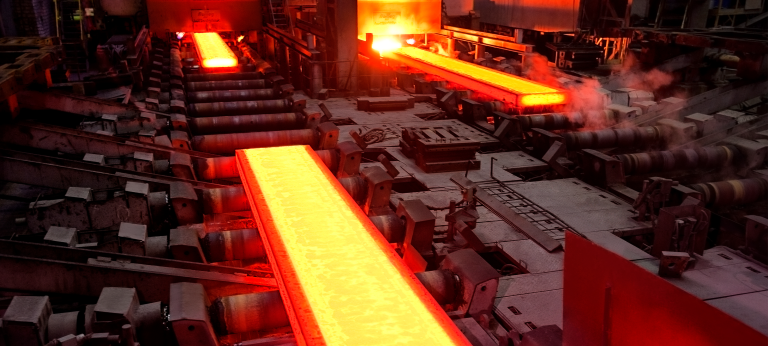 Green steel: The race is on
What will it take to decarbonize the steel industry?
Our modern world runs on steel. But it is a major source of CO2 emissions, second only to the power industry. Currently, the European steel industry – where production is still largely done using coal to reduce iron ore, the so-called "primary route" – accounts for 5.7% of the total EU greenhouse gas (GHG) emissions. To meet emissions targets set by the 2015 Paris Agreement, the steel industry will have to be climate neutral by 2050, and reduce emissions by roughly 30% by 2030 to meet EU interim targets. Achieving these targets will take more than just material or process efficiency. As it stands now, steelmakers have three options: do nothing; invest in carbon capture and storage solutions, or transition to cleaner production processes such as hydrogen direct reduction of iron (DRI). Roland Berger developed a model to assess costs of all three and came to the conclusion that steelmakers should opt for the DRI route in order to meet interim targets. As to who will pay for the green transformation, the report indicates that taxpayers and end customers/consumers will have to bear the brunt of it. Additionally, it will require public capital expenditure (CAPEX) funding in the double-digit billion range.
The era of green transformation
As pressure mounts to meet targets, major steelmakers across Europe intend to produce route-specific green steel by the mid 2020s. They are seeking funding from the EU as well as individual member states to help with construction costs. However, a significantly higher proportion of production capacity – at least 29 million tonnes (Mt) – would have to be converted to greener processes to meet emission targets.
Low-emission steel production will be considerably more expensive than steel made via the conventional route. Investing in cleaner steel production processes may help avoid direct emission costs but carries both high CAPEX as well as operational expenditure (OPEX). For example, in a high carbon price scenario, annual additional costs of around EUR 17 billion are to be expected in 2030, if 29 Mt of production capacity is converted to the green hydrogen route.
Who's paying?
So, who's going to foot the bill? The burden is likely to be shared by three groups:
Steelmakers: With green steel set to become a competitive market in the coming decades, steelmakers should ride the wave of the transformation now, in order to not be left behind. But with low margins and fluctuating raw material costs, it is unlikely that they will be able to take on a significant chunk of the total costs involved. Therefore, in addition to EU funding, steelmakers should also seek private funds to aid in the transformation.
Taxpayers: The Green Steel for Europe Consortium estimates that around EUR 2 billion of EU grants will be available to the steel industry between 2021 and 2030 to help combat climate change and meet emissions targets. While this still falls short of the estimated costs involved for the green transformation, the emissions-related funding from the European Green Deal is expected to narrow the gap. Individual EU member states can also play their part by providing further financing. Additionally, regulations and tax-funded subsidies need to be put into place to enable the transformation.
End customers and consumers: This is the group that is expected to share the bulk of the green transformation costs. Whether they are willing to pay hinges on several considerations, including increasing climate-consciousness among end-consumers (i.e., a buyer of a car), as well as customer (i.e., a carmaker) strategies to position themselves as a climate-friendly company. As to how much customers must pay will depend on factors such as increasing external pressure to reduce GHG emissions, and the effectiveness of reforms such as the EU's Carbon Border Adjustment Mechanism (CBAM), which aims to create a level playing field from 2023 onwards for European industries, mainly by imposing levies on non-EU players based on their CO2 emissions.
Steel standing
Considering long lead-in times for planning and construction as well as lengthy subsidy processes, the steel industry will need to rapidly kick-start the green transformation. Aside from financial aid, operational and structural changes will also need to be put into place to meet emissions targets. The development of a competitive green hydrogen market is also critical if the steel industry is to become climate neutral. The most expensive proposition of them all will be doing nothing.
Download the report to learn more about the technology costs involved and who will pay for it.
Register now to download the full study to learn more about the transformation costs of the European steel industry and find out why a 'do-nothing' approach is not an option. Receive also regular insights into our Industrials topics.