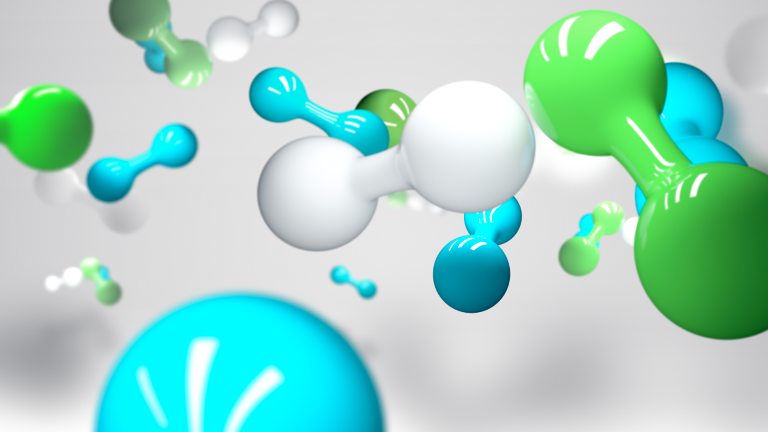 GLOBAL TOPIC
Bringing hydrogen into the mix: opportunities for growth
Why hydrogen?
While everyone talks about hydrogen, we help you grow your business.
There is almost universal consensus that hydrogen (H2) and fuel cells are indispensable to any transition to a climate-friendly economy – especially where other ways to reduce greenhouse gases fail to measure up. While rechargeable batteries are a very efficient option for passenger cars, for example, they are simply too heavy for long-distance haulage. As a way to decarbonize branches of industry such as steel and chemicals , H2 is also essential for reducing feedstock and process-related CO2 emissions. Moreover, hydrogen and the synthetic energy carriers produced from it (power-to-X) will play an important role as storage media in any electricity system that is rooted in renewable energy sources .
Hydrogen's share of the global energy mix could well be over 20 percent 30 years from now. And although there is obviously no guarantee that hydrogen and fuel cells will earn companies money, opportunities are coming thick and fast. Now is therefore the time to evaluate the potential and not miss the optimal point of entry. Good strategies must likewise be mapped out, as the risk of bad investments is heightened among so much hype. It is thus vital to conduct solid analysis and run through scenarios from financing to partnership approaches.
Do you need valid answers to these and other questions about the future of the hydrogen business? Are you looking to strategically position your company? Then you have come to the right place! Roland Berger has been advising customers on issues surrounding hydrogen and fuel cells for over ten years. Our expertise covers everything from crafting political concepts for governments and associations to developing strategies for all relevant sectors of industry (energy, transport, steel, chemicals and finance). We look forward to hearing from you!
Hydrogen and fuel cell technology are critical elements in the green transformation of our societies. Closely tracking their development in recent years, Roland Berger actively helps its clients to get on board and grow their own hydrogen and fuel cell business.
The list below outlines a selection of the in-depth studies and articles we have worked on, including articles ranging from hydrogen production to various end uses in mobility, industry and energy.
The hydrogen industry and its wider ecosystem is singularly versatile. And so are our solutions for our corporate and public clients. We help you effectively tackle specific challenges and ambitions in an array of industries, such as energy, mobility and transport, metallurgy, chemicals, construction, real estate and finance.
We advise clients across every link in the H2 value chain…
Clean hydrogen production


Hydrogen transportation, storage and distribution


End-use applications for fuel cells and hydrogen in mobility, industry and energy


Overarching strategies and topics
...and supply them with a comprehensive service portfolio:
Hydrogen and fuel cell strategies (market analysis, market entry strategies, business model development, technology and industrialization roadmaps).
We recently helped a leading global automotive OEM to analyze the global hydrogen value chain and identify opportunities to enter the market.
Hydrogen project development (project design, hydrogen hubs/valleys, feasibility studies, partnering concepts, consortium set-up and structuring, business planning, de-risking, PPPs).
Roland Berger supported an international consortium, developing a first-of-a-kind green hydrogen supply chain in the Middle East to serve local demand and export hydrogen to Europe.
New hydrogen organization (organizational set-up of hydrogen units, business processes, target operating models).
We recently assisted an international energy company in shaping a robust organization around their targeted hydrogen business models.
Funding and financing (funding/financing concepts, funding applications, financial engineering).
Roland Berger supported the developers of a globally unique green hydrogen/e-fuels project with the process of applying for resources from a major EU funding program.
M&A (commercial due diligence, investor search, start-up).
We recently advised an international green energy champion during buy-side commercial due diligence testing for an international hydrogen start-up.
Hydrogen sector strategies, regulation and policy development (sector strategies, funding programming).
Roland Berger recently analyzed the policy and regulatory landscape for hydrogen and fuel cells in leading markets as input for policy dialogue at an international hydrogen association with a global reach.
Our hydrogen and fuel cell experts
Hydrogen and fuel cells constitute a new, fast-growing industry. Operating from within their specific regional markets, our global network of experts brings the full spectrum of commercial, technological and regulatory perspectives to the table.
E-mail updates on hydrogen
Register now to receive regular updates on the future of the hydrogen business.