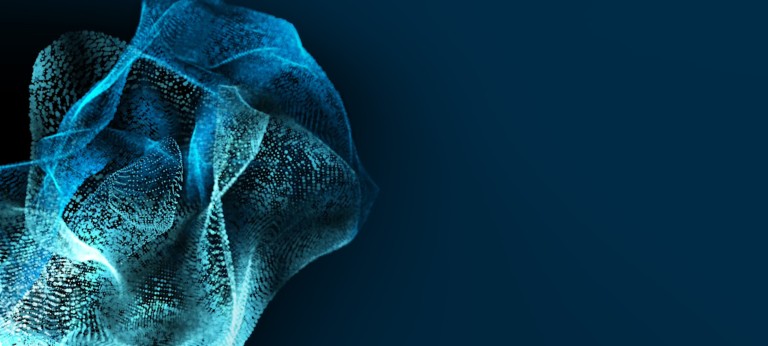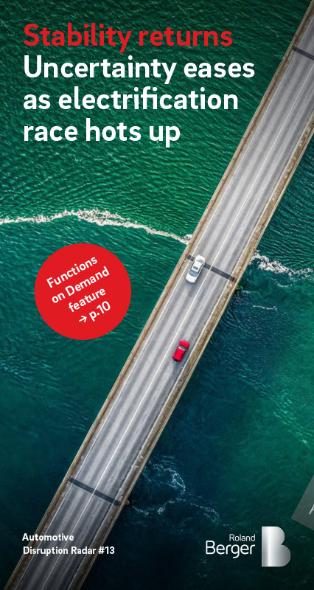 Automotive Disruption Radar 13: Industry powers through recent uncertainty
Also in this edition: Why the US has leapt up the rankings and the potential of Functions on Demand
After three years of upheaval and uncertainty, a return to stability is the key takeaway from the latest edition of the Automotive Disruption Radar. The top three performers, namely Singapore, China and the Netherlands, remain unchanged, but there has still been a lot of industry activity. The battle for EV supremacy is hotting up among OEMs, and exciting new digital revenue-generating services, such as Function on Demand, are coming on line.
A strong performance from Europe's electric vehicle sector in late 2022 and early 2023 helped the global automotive industry to power through recent market turbulence and return to relative stability. The latest edition of Roland Berger's Automotive Disruption Radar (ADR), which was again topped by Singapore, China and the Netherlands, also shows that the race for electric and digital dominance continues to hot up, with traditional OEMs piling the pressure on new players. The US was the big improver, as new regulation and investment targeting the push towards electrification was announced.
The thirteenth edition of the ADR, a bi-annual report that tracks 26 automotive disruption indicators across 23 countries using a survey, interviews and research, covered a period of significant global disruption. But it seems that the industry is now putting the worst of the energy crisis and COVID-19 pandemic behind it. The ADR13 report looks in detail at the top performers and improvers, and assesses where things went wrong for countries whose scores fell. It also includes an update on the battle for electric vehicle (EV) supremacy and a feature on new Function on Demand (FoD) services. See the report here for full coverage.
The rankings unpacked
Singapore maintained the momentum that saw it surge into pole position in ADR12 . It secured the top spot in ADR13 based largely on its high scores in the mobility indicators, such as mobility concepts, mobility planning and mobility behavior. In joint second, China and the Netherlands scored highly thanks mainly to their strong progress in electrification and autonomous driving. Norway, meanwhile, maintained fourth place largely due to its world-leading share of EVs in the national parc.
The US was the stand-out performer. It surged into the ADR top ten for the first time, boosted by several recent Acts that will have a major impact on vehicle electrification (details in the report). ADR13's strugglers included France, Canada and Saudi Arabia, with several recording a dwindling interest in autonomous driving.
Electrification battle hots up
While the indicator scores in ADR13 vary considerably compared to those of ADR12, the electrification indicators were the clear winners. Scores increased almost across the board, including those for EV charging and the number of EV models available. A key driver was the announcement of new regulatory bans on internal-combustion-engine (ICE) vehicles, especially in Europe. While details still need to be figured out, in March the EU agreed on plans to ban ICE vehicles from 2035. In addition, the OEM offer has rapidly expanded, with more and more players entering EV markets.
However, while the offering is good in the higher price segment, the lower price segment has a much lower share of EV options. This indicates significant growth opportunities in the sector. Some EV players are already acting on this. For example, Tesla is cutting prices and exploring a low-cost model, while BYD is set to offer its basic Seagull model from USD 12,000 in China.
As a result, overall margins may decrease as they tend to be lower in the volume segment. This leaves OEMs with a problem – having to secure margins or offset lower margins with new products. For many, digital services such as Functions on Demand, offer a potential solution.
FoDs: A new revenue driver
Functions on Demand (FoD) are subscription-based (usually) services that offer new revenue streams for OEMs. These can range from services like navigation systems, cruise control and parking assistants – as already offered in many cars from premium OEMs – to connected services such as traffic updates, internet access and even advanced ADAS.
While OEMs battle it out with Big Tech players in the software arena, FoD should be home turf. The services allow OEMs to retain control of the customer/user interface, and maximize revenues and recover margins. Better still, there is a substantial demand for FoD, with 52% of ADR survey respondents seeing FoD as something positive.
In the full ADR13 report, we look closely at the potential of FoD services, what consumers think of them and what OEMs need to do to exploit them. We also present a case study based around a model for an ADAS system for premium OEMs, which includes break-even points. We conclude that OEMs must improve their current FoD offerings and work harder to make them attractive to their customers. See the full report for details.
Sign up for our newsletter