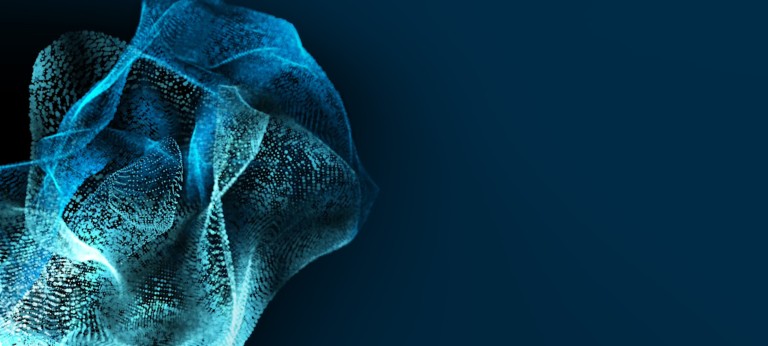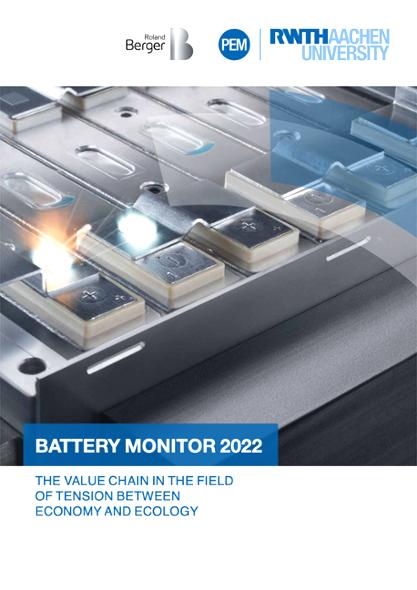 Battery Monitor 2022: Technology and sustainability in the battery market
A step-by-step assessment of the lithium-ion battery value chain, from mining to recycling
Production of lithium-ion batteries is soaring, driven by a booming electric vehicle market. But with raw materials increasingly hard to source and environmental regulation becoming ever stricter, how healthy is the battery industry, and what does its future hold? Battery Monitor 2022, a collaboration between Roland Berger and the PEM group at RWTH Aachen University, provides an assessment.
The days when batteries were simply useful portable power sources are long gone. Today, lithium-ion batteries (LiBs) are a key factor in the decarbonization of transportation and the transition to renewable energy. The introduction of electric vehicles (EVs) and the requirement for power storage has seen production skyrocket, with LiB capacities expected to grow to five terawatt hours by the end of the decade, with further expansions planned and new projects being announced nearly daily. This has resulted in a huge and highly competitive value chain stretching from the mining of raw materials to recycling. The global push for sustainability adds to its complexity.
Battery Monitor 2022 aims to assess the state of this value chain and its future direction. While the first edition of the Battery Monitor looked mainly at battery cell production, this second edition focuses on every lifecycle phase of the battery. Each step in the process is covered, with chapters on materials, production, performance, usage and second use, as well as one offering an overarching market view.
To accurately map value creation, the chapters are structured around four key performance indicators – sustainability; technology performance; competitiveness; and innovation power. Each chapter also considers the current status of different regions, from Asia to North America. The sustainability KPI reflects the environmental impact of the lifecycle phase, and is of particular importance due to the current prominence of issues around CO2 emissions and the use of hazardous substances. The other KPIs reflect the technological differences and research work in the respective phases. Below is an overview of the findings from the full report.
Overarching market view
The market for LiBs is growing fast, with sustainability, availability of raw materials, increasing sales of EVs and demand for ever-more powerful batteries the main drivers behind it. Rising volumes mean production is coming under increasing environmental scrutiny, with the European Union (EU), for example, tightening regulation on recycling targets and CO2 emissions. As more and more players enter the market, securing supplies of raw materials is a key priority, while announced overcapacity in cell production is likely to become a major problem.
Battery materials
The materials used in batteries account for 60-70% of total cell costs. Many are difficult to source, and OEMs and manufacturers are now moving to secure supplies, for example, by acquiring mining companies. They are also aiming to lower the carbon footprint of production processes, with new cathode active material production methods a major area of investigation. Higher nickel contents, nickel alternatives, sodium-ion technology and silicon anodes are key research areas.
Battery production
Digitalization and automation are the major trends and drivers in battery production. Asian producers are leading the way in automation and lowering costs, with optimized manufacturing speeds (cycle times) and overall equipment efficiency – key parameters in battery production. But many high-quality process technologies are also now emerging in Europe and the US, driven by collaborations between business and academia. The development of a "green battery" dominates R&D efforts.
Product performance
Thanks to improvements in energy densities, there has been a strong increase in performance of EV batteries in recent years. Energy densities have risen eight-fold, while battery costs have fallen by almost 90%. This is resulting in longer guaranteed performance periods for EVs, and therefore longer warranties and rising confidence in the technology. China dominates the EV market when it comes to sales volumes and range of vehicles.
Battery usage
EVs are the main market for LiBs, accounting for 90% of demand. The vehicles cannot be 100% sustainable until they are powered solely by renewable energy. A country's energy mix is therefore a key factor in EV and battery sustainability. Charging networks are growing rapidly, driven by growing EV sales, incentives and improving technologies. The rollout of fast DC charging is critical to overcome concerns about EV ownership.
Second use and recycling
Recycling is seen as the most important process step to reduce the CO2 footprint of cell production. Currently, companies have recycling efficiencies of 60% to 95%, with those in the EU driven by regulatory targets. Technologies such as hydrometallurgical approaches can recover more than 90% of active materials, but CAPEX and OPEX are high. China has the highest recycling capacity, but capacities are increasing strongly in Europe and North America.
Battery Monitor 2022, a collaboration between Roland Berger and the Production Engineering of E-Mobility Components (PEM) group at RWTH Aachen University, closes with a list of key takeaways for stakeholders in the value chain. These include noting that regulation is playing the key role in sustainability and success of the battery market, and that manufacturers and OEMs need to move to secure supplies of raw materials. See the full report for more details.
Register now to download the full study including key insights, current developments as well as future challenges for players in the battery industry. Additionally, you get regular insights into electronics topics Battery Monitor 2022: Technology and sustainability in the battery market
Battery Monitor 2022 assesses the entire lithium-ion value chain, focusing on sustainability, technological progress, the electric vehicle market and raw material availability.
Published November 2022. Available in