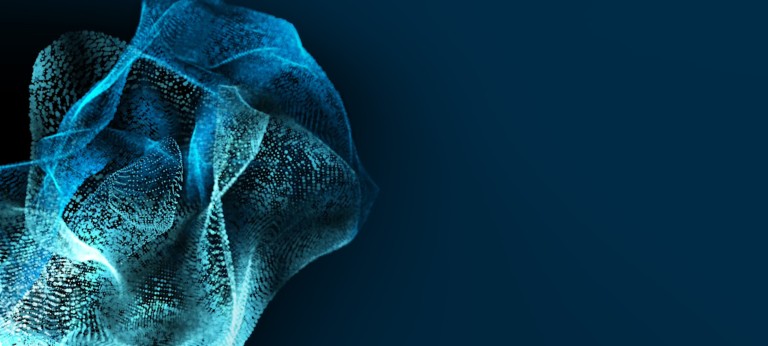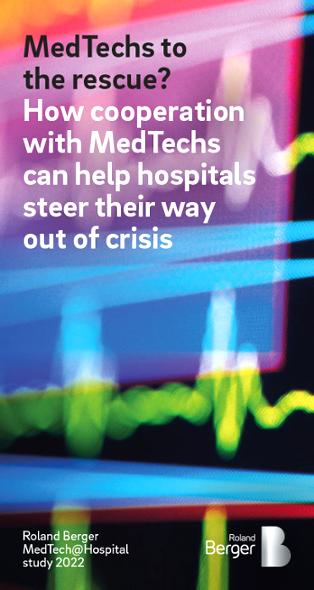 MedTech to the rescue?
How cooperation with medical technology companies can help hospitals steer their way out of crisis
After a disastrous 2021, the mood among hospitals is even gloomier in 2022. Worse, almost all agree that their economic situation will deteriorate further in the years ahead. Roland Berger's annual study identifies hospitals' points of pain, examines how they are responding and explores how cooperating with medical technology companies (MedTechs) can help. It also asks how hospitals perceive these companies today and looks at how medical technology companies themselves can adapt – turning challenges into potentially lucrative opportunities.
What is the problem?
The hospital sector is under serious financial pressure. Our June survey of 600 large hospitals found that nearly 70% will likely end this year with negative results. Uncertainty about what happens next with Covid-19 (and government compensation), faced by spiraling costs and now suffering acute staff shortages, the hospital sector faces a bleak outlook. Cost-cutting is an essential go-to solution, of course. And this will naturally have serious repercussions not just for hospitals themselves, but for their suppliers in general and medical technology providers in particular. A key focus of this study is therefore to help the latter understand what hospitals plan to do, what they expect of medical technology partners, and where these must rethink their own strategies and offerings.
Where are hospitals looking to make savings?
While costs must be reduced wherever possible, our survey found specific areas where hospitals see the greatest potential to make effective savings. Medical consumables, maintenance and repair are key examples. Here and in other areas, more than half of the hospitals surveyed have concrete plans to save on medical technology, and this will hit providers hard.
Hospitals understand the need to share the economic burden fairly and are open to exploring this option with their suppliers. More than half of respondents could envisage price bands as a reasonable way to hedge the financial risk of rising purchase prices, though some see no alternative to fixed-price arrangements. Industry associations indeed question whether hospitals and medical technology players see eye to eye on this issue and encourage "open debate" to find acceptable solutions. It seems that, whatever solutions are found, medical technology companies must assume that their raw material and supply chain costs too will come under increasing pressure.
What do hospitals want from MedTechs?
Our publication covers a range of aspects in the relationship between hospitals and medical technology providers. Hospitals see technical expertise and hands-on support in implementing new systems as two of medical technology companies' strong points and are generally very happy with the service provided. Their primary focus in buying in external services is to optimize internal efficiency and advance digitalization. Logistics/warehouse services also rank high (alongside maintenance and repair) on hospitals' wish list – unlike fully integrated solutions, for example.
As things stand, hospitals are less than enamored by the after-sales and financing services on offer. Under growing economic pressure, however, this attitude could change, opening a door for medical technology companies to present more attractive financing models and payment modalities going forward.
What must surely catch medical technology providers' attention is many hospitals' intention to thin out supplier portfolios, again with a view to lower purchase prices and operating expenses. Another issue is hospitals' traditional reluctance – for reasons discussed in our study – to commit to strategic partnerships and share risks with medical technology players. Yet all these challenges also create opportunities for those suppliers that are willing to listen to what hospitals are saying, grasp their points of pain and respond with suitably adapted offerings.
With this in mind, the Roland Berger study ends with four practical recommendations on how medical technical technology company can turn very real risks into very rewarding growth that also helps hospitals pull through their current crisis.
Download and read Roland Berger's full 2022 survey of 600 large hospitals. Alternatively, contact us to see how we can help your organization respond to the points it discusses.
Register now to download the full MedTech 2022 PDF and learn more about the current economic situation, insights, and our recommendations for industry players based on our survey of 600 German hospitals. Also learn more about how MedTech technologies can help hospitals to be efficiently prepared for future obstacles.