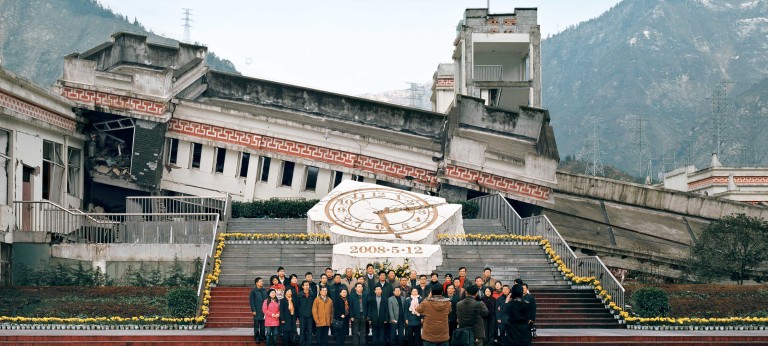 Think:Act Magazine "Rethinking Growth"
Overcrowding and tourism in the Instagram age
Influencers and social media are helping shape new travel trends like dark tourism and voluntourism.
Has the internet changed the way we see the world and how we travel through it? With influencers and tourist boards using data to fine-tune their social media and awaken our FOMO – "fear of missing out" – others are asking how we can protect the environment and quality of life in the places we now flock to photograph.
The new view of Venice
Venice is one of the world's most popular destinations – its 25 million annual tourists may be disappointed, however, if they expect the intimate gondola rides and clear views across the Grand Canal that populate online platforms. The city is now taking measures to limit the overcrowding and environmental impact caused by the giant cruise ships that pour in daily – but not before British artist Banksy was able to comment on the situation with an unofficial installation during the 2019 Venice Biennale.
The culture of sharing
From social connection to the desire to emulate our peers, Instagram plays with our primal instincts. And with over 1 billion active users, those seeking influencer status on the platform – popular users who can make sponsorship deals with brands – have to stick out. Influencers and their marketing agencies have developed their own algorithms to determine the colors, posting times, hashtags and types of images that will drive the highest levels of interaction. That can mean more influence on the market, but it also means you may see some themes repeating as you scroll through your feed.
Simulated cities
In 2018, Chinese residents took 1,326% more overseas trips than they did in 2000 – a trend that overlapped with a boom in Chinese town planning developments that carefully mirrored foreign cities. Construction on Tianducheng, China's Paris, began in 2007 and the city boasts a one-third scale replica of the Eiffel Tower. But this suburb of Hangzhou isn't alone: China's own versions of London and Jackson Hole, Wyoming are now destinations for tourists, even if they never became the thriving communities planners once imagined.
Selfless or selfish?
With packages that promise the opportunity to travel while making a difference, "voluntourism" boomed in the 2010s. Yet these arranged trips have come under increasing criticism: The length of an average stay is often too short to help establish continuity in the visited communities with some volunteers appearing to place more importance on perfecting their social media than affecting social change.
A constructed reality
Even after waiting in line for a shot that creates the fantasy of being alone at crowded sites like Cambodia's Ta Prohm and Angkor Wat temples, professional Instagrammers will remove any signs of other people using software while manipulating other elements to maximize engagement with their posts. The process makes for beautiful images – but also for unrealistic expectations.
Calls for the end of the geotag
Digital popularity is physically changing the landscape. They call it the "Instagram effect" – users "geotag" their image, giving their location to the closest meter and creating a wave of tourists that all want their own selfie at some of the most magical places on Earth. But while "responsible" geotagging – giving the country rather than a specific location, for example – is gaining popularity, others have demanded faster solutions to overtourism's damage : As of October 2019, Australia's Uluru, or Ayers Rock, is now closed to tourists. It is a sacred space to the Aboriginal people.
The rise of dark tourism
The 9/11 Memorial, Auschwitz and Chernobyl: Sites of unspeakable tragedies are now also popular destinations. So-called "dark tourism" may have a brighter lining, however, as the local tourist board is quick to point out that China's Wenchuan Special Tourism Zone, site of the 2008 earthquake that killed 69,000, has helped create more jobs for survivors and promote local culture.
Curious about the contents of our newest Think:Act magazine? Receive your very own copy by signing up now! Subscribe here to receive our Think:Act magazine and the latest news from Roland Berger.