How the Industrial Internet of Things is transforming discrete manufacturing
Market research companies estimates that the worldwide IoT in discrete manufacturing market is expected to reach about $50 billion by 2022, growing at a CAGR of around 25.1 percent during the forecast period 2016–2022. So expectations are high of coming growth in the Industrial Internet of Things (IIoT). It seems IIoT is where the future lies and no industrial company wants to be left behind.
Equipment manufacturers are working full steam ahead on digitization, striving to upgrade their hardware with digital solutions and linking their machinery to digital ecosystems. Larger system providers are entering the field of "Manufacturing as a Service" or MaaS, for instance Siemens with MindSphere, a cloud-based open IoT operating system. Software companies such as IBM Watson and Microsoft Azure are entering the market via enterprise resource planning and supply chain management, linking it to manufacturing execution systems and tapping economies of scale across different industries.
IIoT is more and more evolving and creates a lot of benefits for discrete manufacturing companies: the potential to create new business models, offer new products and services, and improve the operational excellence (OPEX) along the entire value chain.
IIoT is evolving
The animated graphic below summarizes what we discovered from conducting more than 40 interviews with company representatives and industry experts. The graphic shows current IIOT use cases and how they are evolving over time . For each use case, we plot the level of support provided (connectivity, monitoring, and so on) against the level of control (product, system, plant or enterprise).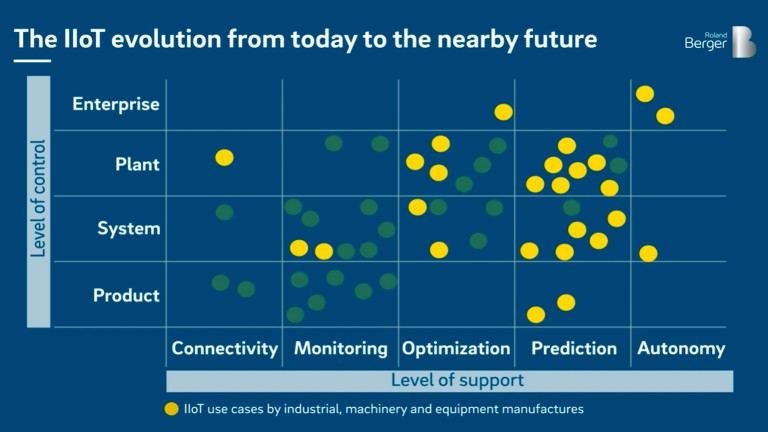 More and more manufacturers are expanding their value propositions beyond the traditional scope of product offerings toward new digitally enabled solutions. But many companies are still in "pilot mode", carrying out selected actions to see if they open up new routes to added value for customers. In most cases, the core business still dominates these companies' activities. IIoT is regarded as an "add-on" and not as a key to secure future profit.
However, a small number of companies are more ambitious, transforming their business model in the direction of Manufacturing-as-a-Service (MaaS) . For example, Heller4Industry is venturing into MaaS in cooperation with Siemens. Likewise, Schuler's Smart Press Shop, a joint venture with Porsche, is based on a new digital business model. These companies are gradually moving from selling hardware to selling digitally enabled, platform-based services. To handle this shift will be one of the key challenges for companies in the coming years and decades.
Another key challenge for discrete manufacturing companies is how to position themselves effectively for the developing platform economy .
IDC predicts that by 2020 around 70 percent of companies worldwide actively involved in IoT will be using IoT platforms. Today we have some 450 industrial IoT platforms in the marketplace but interoberablity is still missing. We see this as the probable digital endgame: fully interoperable IIoT platform based ecosystems. This will certainly alter the way traditional manufacturing companies, system integrators and software players interact with each other, although at present it is still in its infancy. Collaboration will be the key for pooling forces when it comes to completely new ways of dealing with customers, partners and traditional competitors.