 Aircraft Electrical Propulsion
Electric flight just over the horizon
CONTACT US ABOUT ELECTRIC PROPULSION
Electrical propulsion could cause a paradigm shift in the aerospace and aviation industries. It has the potential to make flights quieter with reduced emissions, safer with reduced costs – and could open up new segments of aviation, including urban air taxis and a new sub-regional market.
At Roland Berger, we have been following advances in the field of electrical propulsion closely. Around the globe, around 215 electrically-propelled aircraft are currently in development. We are now witnessing an age of innovation in aerospace and aviation of a type not seen for decades. From technological development and investment by new entrants, to activity by major aerospace incumbents – the industry is set for a dramatic shift.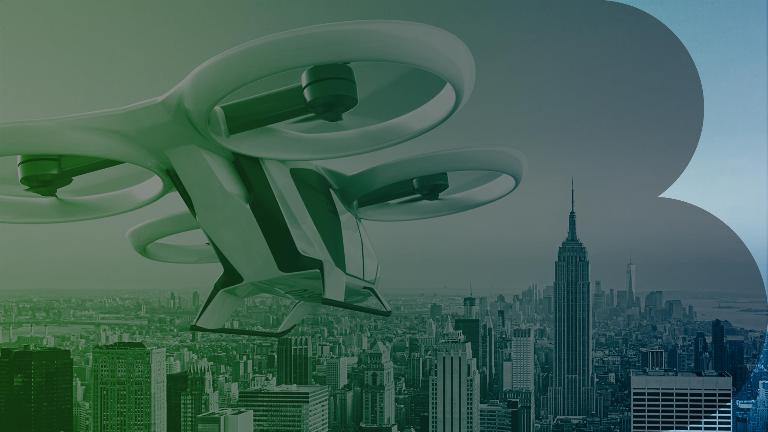 Electrical propulsion: It is not a question of if, but when
Electrical propulsion promises greener flight
Today aviation accounts for 2-3 percent of global anthropogenic CO2 emissions. If left to continue at the current pace of change, aviation's share of emissions could reach 10 percent by midcentury, or as high as 24 percent if other sectors get cleaner as quickly as some experts project. While aviation has improved its fuel consumption over the past 50 years, the sector has underpinned economic and social development and grown roughly 1.5 times faster than global GDP, and continued rapid growth is expected, driving emissions growth.
With electrical propulsion, the scenario could look quite different. Aside from opening up new business models, enabling quieter aircraft and potentially making flight safer, the technology could also keep aviation's share of emissions at roughly current levels, even as other industries become cleaner.
To get there, the industry must close the technology gap to electrical propulsion. There are currently several barriers to electrical propulsion which companies around the world are working on overcoming. These include battery density, efficient electrical systems, effective system integration, and effective regulation/airworthiness solutions to enable new propulsion systems and architectures.
On one front, technology is progressing quickly. The cost of a lithium-ion battery pack is expected to decline by 60 percent by 2030, in part due to capacity for batteries used by the automotive industry. However, with automotive manufacturers increasingly interested in optimizing batteries for volumetric density, it is likely that aerospace players will need to "pick up the baton" to develop lithium-ion batteries that are better suited for the higher gravimetric density needed in aerospace.
The majority of development in electrical propulsion is occurring in the traditional centres of aerospace technology: Europe and North America, with only 17% of currently known developments in other parts of the world (in 12 countries). Of the approximately 215 aircraft in development, most are all-electric with only batteries as their power source, though larger developments targeting the regional and large commercial aircraft markets are mainly experimenting with turbo-electric hybrid propulsion, with traditional hydro-carbon based fuels for greater range and/or power output.
Financed by private and venture funding, around 70 percent of developments are being conducted by start-ups and independents. Incumbents make up around 30 percent of developments, of which major OEMs are responsible for about half. More than half of these electrical propulsion projects were announced in 2017 or later, with many planning to deliver commercially viable aircraft in 5-15 years.
Despite most current known electrical propulsion developments being found in Europe and the US, China could play a leading role in an electrically propelled future. At present, China hosts only one development, the EHANG 184/216, an all-electric, autonomous passenger drone. However, due to a combination of investment in technology, consumer demand, regulation, and a current lack of incumbency in aerospace, it is possible that EHANG is just the tip of the iceberg.
Perspectives on electrical propulsion from the industry
To better characterize trends in electrical propulsion, we interviewed senior aerospace and aviation leaders. Johan Lundgren, Chief Executive Officer of easyJet, outlined his airline's interest in, and motivation, for electrical propulsion.
We interviewed Skyports Managing Director Duncan Walker about his company's innovative goal to build a drone infrastructure network in partnership with the German vehicle manufacturer Volocopter.
We also spoke with Ashish Kumar, Founder and Chief Executive Officer at Zunum Aero on how to start and scale up an electric aviation start-up .
Andreas Thellmann detailed Airbus' multi-pronged entry into electrical propulsion and Urban Air Mobility.
To get the perspective of a major global airport , we spoke with Denise Pronk, Head of Sustainability at the Royal Schiphol Group.
Finally, we discussed a city's perspective on Urban Air Mobility with Dr. Christian Lösel, Mayor of the German town of Ingolstadt, which plays host to the Audi/Airbus/Italdesign Pop.Up urban air taxi concept.
Not a question of if, but when
Aircraft electrical propulsion truly holds disruptive potential. With the promise to increase fuel efficiency, reduce greenhouse gas emissions, reduce cost, and increase safety – all while expanding the design space for an aircraft – electrical propulsion stands to both change incumbent modes of travel, and introduce new segments of travel as yet unavailable to most passengers.
The extent of companies and sectors which stand to be disrupted will become clearer as the technology matures, but these are not likely to be limited to those in the aerospace and aviation industries. At the same time, regulation and airworthiness agencies around the world must play an essential role to ensure aerospace safety and reliability standards are not compromised as start-ups and incumbents alike rush to establish themselves in the emerging industry.
The overall message at present remains clear: the pace of activity is accelerating, and the landscape is evolving rapidly.
Contact our experts
How will the industry evolve due to electric propulsion? How will electric propulsion impact your company?
We invite you to contact us at [email protected] , or connect with Robert Thomson or Nikhil Sachdeva via LinkedIn to discuss your thoughts.
Interested in finding out more about exciting developments in the field of electric propulsion? Register here to receive the latest updates delivered straight to your inbox.