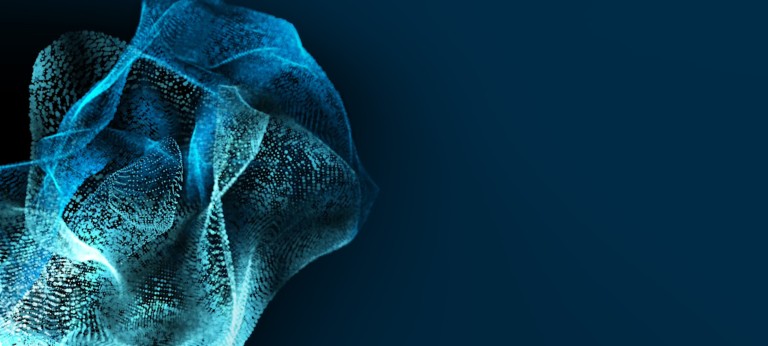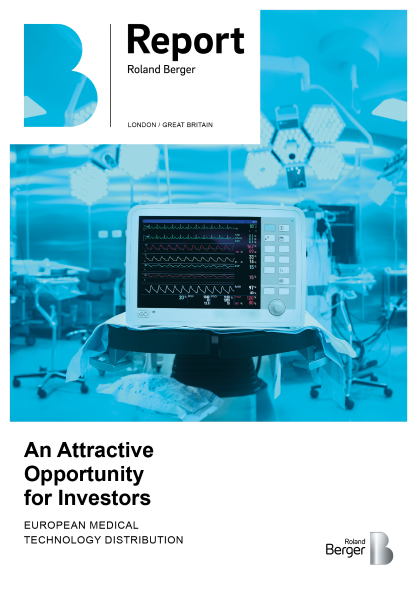 European medical technology distribution
An attractive opportunity for investors
Medical Technology, or MedTech, is an attractive market both due to its underlying growth drivers, like the ageing population and the role of technology in constraining healthcare spend, as well as its relative resilience to economic cycles. However, delivering MedTech products to healthcare providers is challenging and involves serving complex patients' needs—from selecting the right combination of products to installation, integration, training and education, and maintenance. Whilst large markets such as the US, Germany, France, and the UK can support direct sales and servicing for original equipment manufacturers (OEMs), the diverse and nationally regulated European markets pose a greater challenge for comprehensive product delivery. This is where MedTech distributors play a crucial role. They cater to local regulations, offering tailored products and services for effective product delivery and mix-and-match solutions across multiple OEMs to best meet healthcare providers' needs and budgets. In recent years, various MedTech distributors have achieved rapid value creating growth. They have both expanded their portfolios through the onboarding of new suppliers and entered new countries and therapeutic areas to improve their ability to serve customers and OEMs. As such, MedTech distributors present an attractive market for investors and an opportunity for further consolidation given the relatively fragmented Pan-European competitive landscape.
What is MedTech distribution and what makes European MedTech distribution an attractive market?
MedTech, is a group of products, services, or solutions which are used in medical contexts, i.e., to save lives, or improve quality of life. They are present through the full patient journey from diagnosis through to treatment, cure, and long-term care. Medical technologies can broadly be segmented into two categories: Medical Devices, which encompass all instruments, apparatus, machines, and implants used to carry out medical activities, and In Vitro Diagnostics (IVD), which are tests used on biological samples outside of the body to assess a patient's physical condition. Despite being mature in terms of uptake of healthcare technology, the ageing European population is forecast to drive continued growth in the European MedTech market. This is because of the increasing prevalence of age-related conditions and comorbidities as the average age increases, as well as the fact that chronic diseases, which accumulate over the lifespan, require recurring or continuous treatment. Furthermore, the non-cyclical nature of the underlying healthcare market and its relative resilience to economic cycles makes MedTech even more appealing from an investor perspective.
Key trends in European MedTech distribution
The most important trend in MedTech distribution is the increasing demand for Value-Adding Distributors (VADs). Typically, MedTech distributors buy products from suppliers, repackage it, and deliver it in smaller quantities to the customer whilst acting as sales representative for the OEM. However, as the needs of healthcare customers have become more complex to the point where more and more ancillary services became necessary and the industry shifted towards solutions, MedTech distributors started integrating value-added services and capabilities into their offerings. VADs provide both MedTech products and adjacent services bundled as a single package, making them total solution providers. These services range from curating the medical technologies offering and reliability of the supply chain to technical services and training and education, through to product know-how and customer relationships.
The European MedTech distribution investment landscape
The number of European MedTech distribution deals has been growing over the past 10 years, driven recently by the COVID-19 pandemic growing demand for medical devices whilst drawing attention to the broader healthcare industry, and the 2021–22 M&A boom. As a non-cyclical industry, MedTech is forecast to remain a reliable investment route for strategic players as well as even in the face of future macroeconomic uncertainty. Over the past 10 years the space has been consolidating, with four players in particular leading the effort. Mediq made 12 acquisitions, including Bunzl Retail & Healthcare Supplies Ltd for its private label brand 365 Healthcare, and Duomed Group also made 12 acquisitions, with the headline being the 2022 acquisition of French distributor 'The Surgical Company'. ASKER has completed over 30 acquisitions including ONEMED, and Palex made eight acquisitions. European medical technology distribution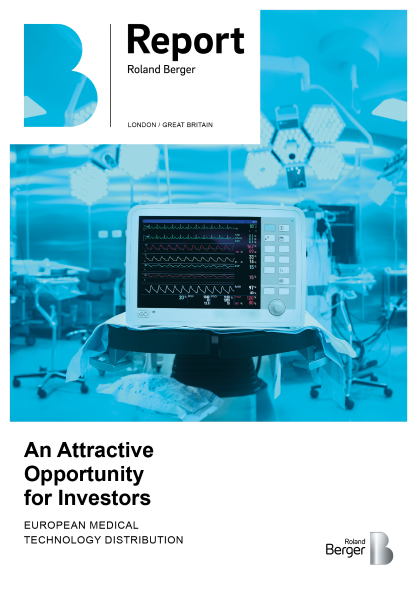 An attractive opportunity for investors
Published July 2023. Available in