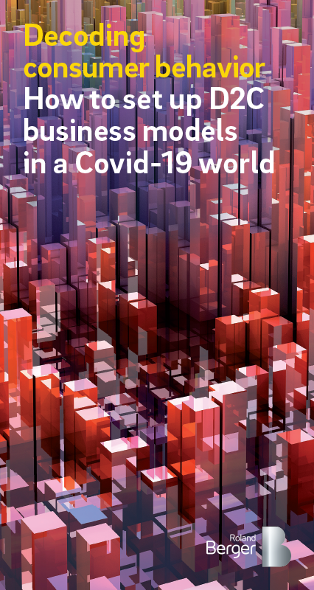 Shopper behavior upside down
How brands and retailers set up D2C business models in a Covid-19 world
Covid-19 is drastically altering how we live, work, interact and shop. Consumers are now more conscious of how they spend their money, with sustainability and value-for-money becoming driving factors. But it's not just what we're buying, it's also how. More time networking and communicating online has altered consumer interaction with brands and products across the entire purchasing funnel. E-commerce is booming and the majority of online orders are now made on a mobile phone. But will these changes last? And how should companies set up D2C business models for lasting success?
Shifts in consumer behavior
We worked with researcher Potloc to ask consumers around the world about the effects of Covid-19 on their shopping habits. By combining these findings with data from Salesforce, we compiled several insights into what this means for brands, retailers and their D2C initiatives. Just over a third of respondents in our survey say they are now shopping more consciously. Almost half now place greater value in quality and durability than they did before the pandemic, while 29% say sustainability is more important. Brands are also increasingly valued for their societal benefits and should respond with a purpose-led strategy and greater focus on engaging storytelling.
Mobile and social on the rise
These online purchases are increasingly being made on mobile phones. Mobiles were once a popular way to browse but not buy, particularly for more expensive items. But in Q2 2020, global mobile traffic grew by 46% year on year. For the same period, orders placed via mobile grew 12.5% and now comprise 54% of total order volumes.
More time at home has also led to an increase in social media use according to 59% of survey respondents. A growing portion of this time is now spent shopping and sharing recommendations via social. According to Salesforce, more than half of consumers have already bought something through social media, with 17% increasing their usage since Covid-19. Among Gen Z consumers, 73% have shopped via social during the pandemic. To capitalize, companies must shift their media budgets and storytelling to social to boost D2C engagement.
Changing the what and the where
With consumers around the world concerned about their finances, 79% say they are cutting spending in 2020. This drops to 54% in 2021, but it's clear that cautious consumption will remain. That is changing what people are buying. Groceries, clothes and hygiene products are the main priority, while non-essential luxury assets take a back seat.
It will come as no surprise to hear the pandemic has increased e-commerce: 42% of respondents said they now shop online more frequently. This is accelerating changes in how brands use their bricks-and-mortar stores. Buying online and picking up in store is proving a popular option, with almost a quarter of shoppers using this method more regularly than before the pandemic. Repurposing unused store space into fulfilment centers could provide further value, particularly during the busy holiday season.
Recommendations
Coronavirus has rapidly accelerated digital transformation and leads consumers to spend with greater focus on value-for-money and sustainability. We recommend brands and retailers concentrate on the following six areas to ensure long-term success for their D2C business models:
Focus on a purpose-led strategy
Set clear priorities
Invest in data analytics for a deep consumer understanding
Shift budgets to foster engagement via mobile and social
Build a scalable e-commerce operation
Integrate physical and digital platforms
We are delighted to call the market research company Potloc and Salesforce our cooperation partners in this project. For more valuable insights into our conducted consumer behavior survey, please download our study now and get in contact with our experts.