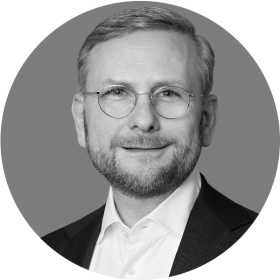 Matthias Rueckriegel
Senior Partner, Global Managing Director, Chief Financial Officer
Matthias Rueckriegel is a Senior Partner and Chief Financial Officer at Roland Berger. He joined the company in 2011 and has a background in investment banking and the logistics industry.
Matthias Rueckriegel advised clients for almost two decades on cross-border M&A transactions, joint ventures, refinancing, IPOs and strategy - with a specific industry focus on telecommunications, media, business services, professional services and logistics. He holds a Master's degree in Business Administration from Justus Liebig University in Giessen, and attended executive education programs at Wharton Business School in Philadelphia and Harvard Business School in Boston.
" It is value that matters. "

Matthias Rueckriegel
Senior Partner, Global Managing Director, Chief Financial Officer
Contact
Get in touch now.