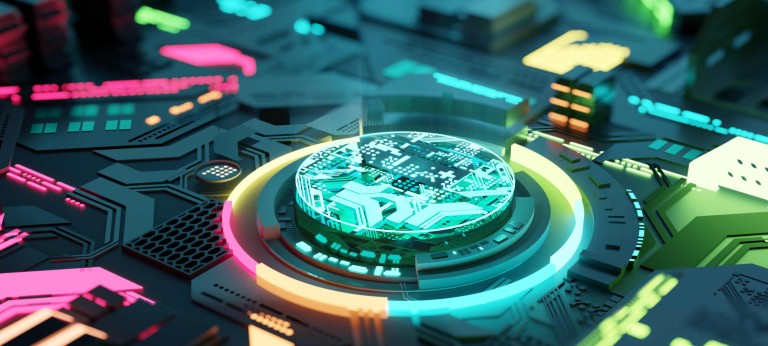 Technology Drives the Future
At the intersection of technology, innovation and strategy
Technology is moving our world forward. The 2022 Consumer Electronics Show (CES), which takes place January 5-7 in Las Vegas, puts the spotlight on the trends and developments that shape the way we live and do business, impact the economy, disrupt current markets and business models, and create new opportunity for stakeholders. Here, Roland Berger presents our latest viewpoints on how digitalization, electrification, disruption and advanced technology are driving the future in our client industries.
• The Future of Automotive
• The Future of Mobility
• The Future of Sustainability
• The Future of Agriculture
• The Future of Manufacturing
• The Future of Healthcare
The Future of Automotive
Shared mobility, autonomous driving, digitalization and electrification continue to drive disruption in the global automotive industry. Electrification has seen dramatic acceleration in the last 12 months, with states and countries announcing near-future bans of internal combustion engines and triggering ambitious electrification commitments by most OEMs. At the same time, new pure play BEV OEMs have seen staggering valuations, surpassing many legacy players. Digitalization and software have become the new battleground for differentiation, and OEMs face losing ground to tech companies and digital players.
Electronics Tier-1 suppliers also have to fend off new tech and digital players, while adapting business models to react to impacts of hardware and software disintegration. This means opportunity to build new product and service portfolios and tap into business models with potentially much higher profitability, or participate in the rapid growth in vehicle connectivity, enabling new product-as-a-service and function-on-demand models.
The Future of Mobility
The future of mobility presents a world of possibility. Novel mobility scenarios are evolving from new technologies and market entrants, and are catalyzing unprecedented disruption, from EVs to advanced driver assistance systems, and more. Investors are strongly backing the rapidly developing passenger Advanced Air Mobility (AAM) industry, and Roland Berger predicts that the first commercial AAM passenger routes (with air taxis and inter-city shuttles) will be operational by 2025, revolutionizing the way we commute. The autonomous vehicle mobility experience brings passengers into the digital immersion metaverse. Technologies needed to realize digital immersion constitute a new playground for incumbent automotive players, startups, tech companies and infrastructure providers alike.
The Future of Sustainability
The drive for sustainability has fundamental implications for companies' long-term success. Sustainability will dominate future top-level discussions, and corporate strategy initiatives need to address sustainability and climate action. Programs can be based on any number of corporate objectives, including supply chain transparency, decarbonization, energy efficiency, and emissions reduction.
Best-in-class sustainability strategies also can turn green from concern to competitive advantage: investors are rewarding companies that take aggressive climate action; customers, particularly younger ones, prefer to buy from companies committed to environmental sustainability (and are willing to pay more); and LEED-certified buildings earn higher rents and have lower vacancy rates. Implementing best in class sustainability strategies will enable companies to capitalize on these trends, as well as meet customer demand and industry and regulatory requirements.
The Future of Agriculture
The growing global population and climate change continue to challenge the agriculture industry, but digitalization promises to catalyze positive change for the farm of the future. Precision farming utilizes technology including smart sensors, robotic automation, and digital data to improve faming outcomes, and is essential for the future of all participants in the agricultural value chain, from traditionally risk-aversive farmers to large agricultural companies. The goal is to promote more sustainable food production, reduce time and production costs, address increasing demands on animal welfare and the environment, and ensure better financial outcomes for food growers.
The Future of Manufacturing
The room to maneuver, rethink, and reconfigure traditional manufacturing has never been greater. A number of trends are converging to offer the opportunity to achieve Next Generation Manufacturing. Sustainability is now demanded by consumers, investors, and governments alike. An increasing regional focus is driven by the desire to minimize geo-political risks, avoid supply-chain risks and long lead times, and bring production closer to demand markets. Technological disruptions, such as EVs, also significantly impact the industrial landscape and manufacturing content.
Finally, digitalization and the fourth industrial revolution (automation of traditional manufacturing practices using smart technology) is disrupting many areas of manufacturing, and will continue. While the current and future impact of these trends depends on the sector (automation and digitalization are of prime importance in capital goods; sustainability, in fashion and consumer goods), manufacturers can use these trends to their advantage to secure their future.

Roland Berger's global network of consultants brings the full spectrum of commercial, technological, strategic, and regulatory expertise to our clients. Our consulting is centered around the impact of technology on business models and strategy, and we advise clients on the implementation of processes such as innovation strategy, research, development, industrialization, and in developing and implementing end-to-end solutions.
Our client base includes leading technology companies from various industries, including automotive, electronics, consumer goods, industrial products and services, agriculture and food production, energy & utilities, and manufacturing.
Reach out to our global experts for more information on our insights, and our consulting services.