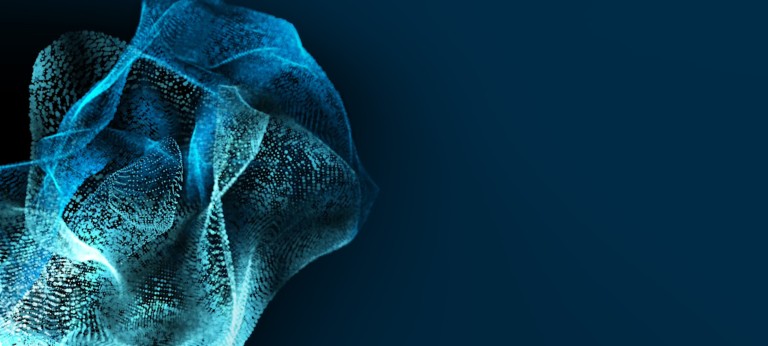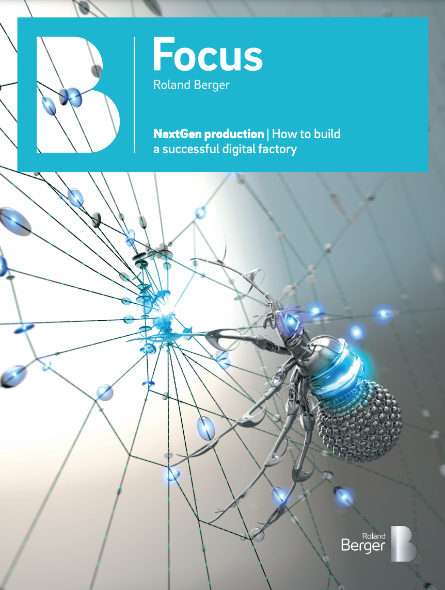 Industry 4.0: The importance of an overarching digitalization strategy
From individual solutions to an integrated concept: How companies can implement the digital factory
When the term "Industry 4.0" was first mentioned in the early 2010s, a veritable hype ensued around concepts such as Big Data, artificial intelligence and the Internet of Things (IoT). Ten years later, Roland Berger's new study, "NextGen production", shows that German medium-sized companies still have a long way to go to achieve a fully digitalized factory. However, we are now on the verge of a factory revolution.
Many digital production use cases involving mid-sized German companies are tailored to individual tasks – they rarely follow a holistic, strategic approach . Moreover, around two out of three digitalization projects are only in the planning phase. This is the finding of the study "NextGen production: How to build a successful digital factory" by management consultants Roland Berger. Managers and specialists from medium-sized companies across five sectors – mechanical engineering, automation technology, consumer products, automotive suppliers and basic industries – were surveyed.
The survey shows that 70 percent of respondents intend to increase their investments over the next two years – on average, 20 to 30 percent of the total investment budget is earmarked for digitalization. The main reasons for using new technologies are to improve processes (64 percent) and reduce costs (44 percent).
Medium-sized companies still reluctant to digitalize
Most mid-sized companies' Industry 4.0 projects are still at an early stage of development: 40 percent of the projects exist as an idea, while 25 percent are in the planning stage. Executives' skepticism of the profitability of digitalization measures is the main barrier to progress these projects.
Four out of five cases, to which concrete measures are already being applied, concern the areas of Big Data, analytics aided by artificial intelligence and sophisticated automation and robotics. What is missing in medium-sized companies, however, is a clear target picture for the comprehensively digitalized factory.
Five dimensions of the digital factory
Five dimensions are crucial for an integrated concept that conveys the path to the digital factory.
Digital ecosystem: Within the organization, this involves networking production into the supply chain and linking to sales and service. Externally, it includes cooperation with other companies and partners.
Digital production system: This defines the value creation processes and technical standards for all plants. Special attention should be paid to the integration of the existing production system.
Digital shopfloor: Here, digitalization is implemented with the help of "smart" machines , interactive automation solutions, and virtual or augmented reality, among other things. This includes planning, operational value creation and logistics functions, as well as the implementation of powerful connectivity, for example via 5G.
Digital workforce: The involvement of a company's management and employees in the development and implementation of the digital factory is of particular importance. Here, the establishment of a digital mindset and acceptance of agile work processes are crucial.
Digital enablers: Computing power, storage space and algorithms are the core elements of the digital enabler landscape. Many companies still have large digital gaps here in their ERP or MES systems.
These five dimensions are essential for a successful digital factory as they help companies build a customized digital roadmap.
Successfully implementing Industry 4.0
If companies want to successfully implement Industry 4.0, there are other points to consider: Acceptance of the change process within the company is crucial for the successful introduction of the digital factory. According to the study, the most important factors here are open-minded and motivated employees (73 percent), a management team that understands and promotes digitalization (32 percent) and the right corporate culture (32 percent).
Furthermore, it is important to seek strategic partnerships in the development of the digital factory. Collaborations with startups, software and hardware manufacturers can bring significant benefits for medium-sized companies.
Finally, the CFO must also be convinced. Conventional budgeting is often not feasible for digitalization projects, as the effects cannot be concretely measured immediately. Instead, courage to make entrepreneurial decisions is often required at the beginning of the change process, coupled with a willingness to "learn by doing" in the project. In the longer term, the investment calculation must then be formalized and embedded into a standardized procedure.
Request the full study here
Register now to download the full PDF with with all insights into building a successful digital factory and to get regular insights into our operations topics.